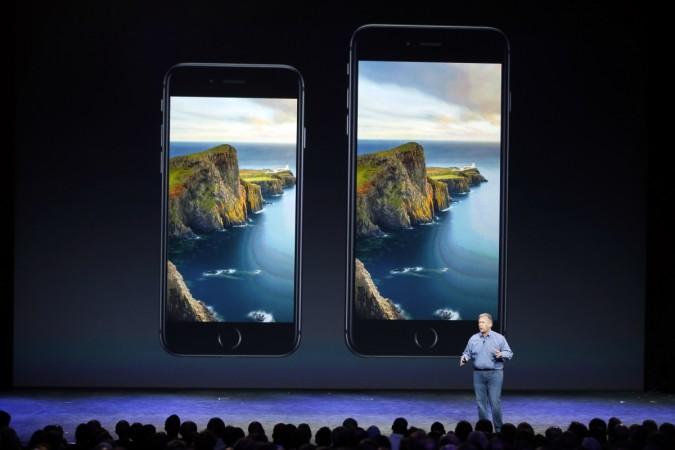 In about a few hours from now, Apple will take the wraps off the much awaited 2015 series flagship iPhone 6S (& 6S Plus) series at the 'Bill Graham Civic Auditorium' in San Francisco, which has a seating capacity of more 7000. This hints that the Cupertino based firm has something very big to share.
For the last few weeks, the internet has been flooded with numerous rumours detailing every possible aspect of the phone from design to internal components. However, it is not wise to believe everything that is twirling on the internet.
To provide a better perspective on the upcoming Apple devices, we have sifted through multiple reliable sources and have come up with a list of probable features that are likely to make the cut in the new iPhone 6S series phones.
Design and Build quality :
It is believed that the new iPhone 6S series' design will remain same as in the 2014 models but will be thicker and heavier.
In 2014, both 4.7-inch iPhone 6 and 5.5-inch iPhone 6 Plus received rave reviews across all spectrum of the media. Consumers were in awe of the devices' big screen and sleek design. But, Apple faced some flak over the iPhone 'bend-gate'. Some early adopters of the iPhone 6 series, complained that their devices got bent when kept in pants pockets. Though the problem was limited to a very few phones, it could not escape the negative publicity.
Having learnt from the predecessor, Apple is leaving no stone unturned to make the new iPhone 6S sturdier, capable of withstanding accidental drops and also increase 'bending pressure' threshold. It is learnt that Apple will incorporate airplane-grade 7000 series Aluminium for iPhone 6S casing making the devices thicker and a bit heavy as well.
Display:
It has been learnt that Apple will not be tweaking the screen-size or the display resolution in the new iPhone 6S series.
The upcoming iPhone 6S is said to feature 4.7-inch Retina HD display with 1334 x 750 resolution and the iPhone 6S Plus sport 5.5- inch LED-backlit IPS screen with Retina HD (aka full HD) with 1920x1080p resolution, same as the 2014 series phones.
Processor, RAM and Storage capacity:
In 2014, the iPhone 6 series shipped with 20-nanometer class based second-generation 64-bit Apple's proprietary A8 processor, which had 25% and 50% faster processing and graphics power respectively, compared to iPhone 5S. It also shipped with 2nd generation M8 co-processor to take certain percentage of load off the main CPU.
This year, Apple A9 is expected to offer a huge performance jump over its predecessor. It is expected to come with either 16 or 14-nanometer based FinFET manufactured chipset inside, reported 9to5Mac. Thus, A9 is expected to be 20 to 30% more efficient compared to A8.
To help optimise the powerful Apple A9 processor, Apple is said to bump the RAM to 2GB LPDDR 4 series, double the capacity compared to iPhone 6's physical memory. It will be further boosted by the new iOS 9 operating system.
However, there will be no change in terms of storage options. The new iPhones will be offered in 16GB, 64GB and 128GB models.
Many believed that the company should have done away with the 16GB option in the iPhone 6 series in 2014 itself. Tech critics opined that 16GB is very low as more than half the storage capacity is occupied by the Operating System and apps, leaving very little for storing personal data like music, video and photos. Most of the rivals have already started using 32GB as the base model and the ones with 16GB usually have microSD card as expansion option.
Camera:
Though the design and display resolution may remain same in the new iPhone 6S series, the camera department is said to be getting a major overhaul this time. It is learnt that Apple has incorporated 12mp camera on the rear-side, that's huge bump over its predecessor, which came with 8mp camera. That's not all, the main camera is said to be capable for recording ultra HD 4K videos as well.
Apple has also upgraded front-snapper from 1.2mp camera seen in iPhone 6 to 5mp camera on the new iPhone 6S with full HD video recording ability.
Battery capacity:
Due to the increase in the thickness of the metal-cover on the rear-side, the battery capacity has been reduced. But the good thing is that change in capacity is not that drastic. It is reported be around 5% in terms of reduction. With every smartphone user carrying power-banks as part of their daily travel gear, it's is not really a deal breaker.
Value-added features:
Advanced Second-generation Force-Touch feature:
The Cupertino based company introduced the revolutionary Force Touch feature first in the Apple Watch and later to trackpad of MacBook and Pro lines. It was rumoured to make its way to iPhone 6S series as well.
Force-Touch is a technology that can sense the difference between a simple tap and a press, providing a new way to quickly and easily access controls within apps.
But the latest report says that Apple has taken this feature a notch higher in the new devices. It has now come to light that the new iPhone 6S series will come integrated with more advanced Force Touch technology dubbed as 3D Touch Display. This technology has the ability to understand three touch patterns – a tap, press and a long press, reported 9to5 Mac citing sources.
New improved Security feature:
Apple's proprietary Touch ID finger-print based biometric technology is said to be improved to make phone take finger-print impressions faster and more secured to enhance the Apple Pay experience.
Apple iPhone 6S (& 6S Plus) Release Date:
If history is taken as any indication, Apple iPhone 6S series after getting unveiled on 9 September are likely to hit stores in a week or two in select global markets.
Apple iPhone 6S (& 6S Plus) Price Details:
According to Dutch based TechTastic blog, Apple iPhone 6S (& 6S Plus) series will be made available in rose gold, space grey, gold and silver colour options and would be priced between €699 (around $782/₹52,070) and € 999 (around $1120/₹74,400).
Expected Features of iPhone 6S and iPhone 6S Plus:
Models
Apple iPhone 6S
Apple iPhone 6S Plus
Display
4.7-inch Retina HD display with 1334 x 750 resolution
5.5- inch LED-backlit IPS screen with Retina HD (aka full HD) with 1920x1080p resolution
OS
Apple iOS 9
Apple iOS 9
Processor
Apple A9
Apple A9
RAM
2GB
2GB
Storage capacity
16GB/64GB/128GB
16GB/64GB/128GB
Camera

Main: 12.0-megapixel camera with 4K video recording ability
Front: 5.0-megapixel camera with full HD (1080p) recording ability

Main: 12.0-megapixel camera with 4K video recording ability
Front: 5.0-megapixel camera with full HD (1080p) recording ability

Network
4G-LTE
4G-LTE
Add-ons
Sturdier 7000 series Aluminium casing, improved Touch-ID sensor, 3D Touch display technology
Sturdier 7000 series Aluminium casing, improved Touch-ID sensor, 3D Touch display technology
Dimensions
138.1 x 67 x 6.9 mm
138.19 x 67.68 x 7.08 mm
Colour options
rose gold, space grey, gold and silver
rose gold, space grey, gold and silver
Price

16GB: €699 (around $782/₹52,070)
32GB: € 799 (around $894/₹59,500)
128GB: € 899 (around $1005/₹66,950)

16GB: € 799 (around $894/₹59,500)
32GB: € 899 (around $1005/₹66,950)
128GB: € 999 (around $1120/₹74,400)
Related