After months of speculations, Apple on Tuesday (9 September) pulled the wraps-off the ultra-premium iPhone 6 series smartphones and the most-awaited smart wearable device Watch at the famous –'Flint Centre for the Performing Arts' in Cupertino, California, USA.
"iPhone 6 and iPhone 6 Plus are the biggest advancements in iPhone history," said Tim Cook, Apple's CEO.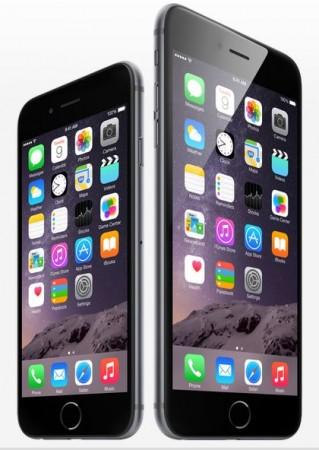 "The iPhone is the most loved smartphone in the world with the highest customer satisfaction in the industry and we are making it much better in every way. Only Apple can combine the best hardware, software and services at this unprecedented level and we think customers are going to love it" he added.
Apple iPhone 6 Specifications Details:
The new iPhone 6 flaunts a 4.7-inch Retina® HD display with 1334 x 750p resolution display and comes packed with new iOS v8.0 powered by the 20-nanometer class based second generation 64-bit A8 chipset which is 25-percent faster (50-percent faster graphics too) than the A7 in iPhone 5S. It is aptly supported by second generation, M8 motion co-processor, and on Camera front, it houses the new 8-megapixel iSight camera with 1.5µ pixels, f/2.2 aperture, True-Tone flash, hybrid IR filter, five-element lens, sapphire crystal lens cover and a 1.2-megapixel FaceTime camera with f/2.2 aperture, auto-HDR and 720p HD video recording ability.
Apple iPhone 6 Plus Specifications Details:
With the launch of iPhone 6 Plus, Apple has officially forayed in to the phablet business, which until now has been dominated by arch rival Samsung. The new iPhone packs enough ammo to give stiff challenge to the newly launched Galaxy Note 4.
It boasts precision unibody enclosure of anodized aluminum that conforms seamlessly with the shaped glass of the display giving true premium feeling to the device.
It sports 5.5- inch LED-backlit IPS screen with Retina HD (aka full HD) with 1920x1080p resolution with pixel density of 401 ppi (pixels per inch).
Under the hood, it packs same specifications seen in the smaller iPhone 6 model sans the battery capacity and camera specification- Optical Image Stabilization on the rear-side snapper.
Apple Watch: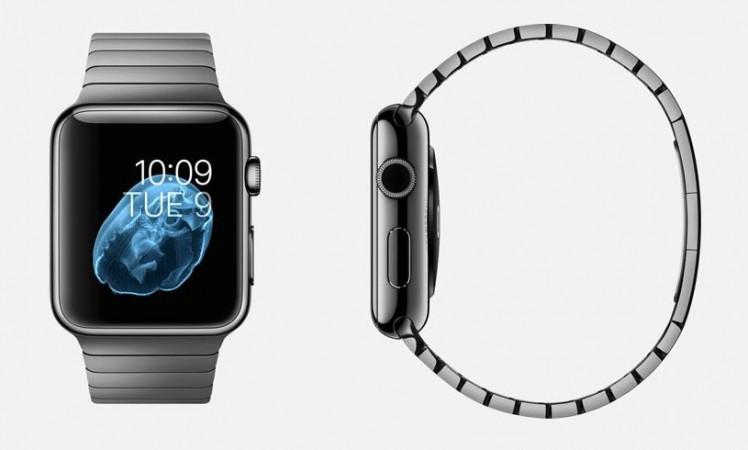 Considering Apple's historical significance with regard to product announcents (first Macintosh in 1984 by Steve Jobs) at the - Flint Centre for the Performing Arts', many market analysts had predicted Apple would foray into new device category- smart wearable gears and they were right on the money. After concluding announcement of the new smartphones, from everyone's surprise the company CEO, Tim Cook came back to the stage to say that famous quote – 'the more one thing' moment to unveil the Apple Watch, reminiscing the theatrics (showmanship) of the company's co-founder, Late Steve P. Jobs.
Apple Watch Specifications Details:
The new Apple Watch runs on the iOS-based user interface created specifically for a smaller device. Apple Watch also features the Digital Crown, a creative way to scroll, zoom and navigate fluidly, without much distraction on the display. The Digital Crown also serves as the Home button and a also easy access to Siri®. The Retina® display on Apple Watch features Force Touch, a technology that senses the difference between a tap and a press, providing a new way to quickly and easily access controls within apps. Apple Watch comes packed with state-of-art technology based Taptic Engine and a built-in speaker that together discreetly enable an entirely new vocabulary of alerts and notifications you can both hear and feel. Apple has custom-designed its own S1 SiP (System in Package) to miniaturize an entire computer architecture onto a single chip.
Apple Watch also features Wi-Fi 802.11b/g and Bluetooth 4.0 to pair seamlessly with your iPhone. It also comes in three distinct collections—Apple Watch, Apple Watch Sport and Apple Watch Edition—available in two different sizes, 38 mm and 42 mm. The beautifully designed and durable enclosures are crafted from custom alloys of polished or space black stainless steel, space gray or silver anodized aluminum and 18-karat rose or yellow gold.
Apple Watch is compatible with iPhone 5, iPhone 5c, iPhone 5s, iPhone 6 or iPhone 6 Plus running the latest version of iOS 8.
Apple iPhone 6 and iPhone 6 Plus price and availability Details:
Both iPhone 6 and iPhone 6 Plus will be available for pre-order from 12 September and hit stores initially on 19 September in USA, Canada, United Kingdom, France, Germany, Australia, Hong Kong, Singapore and Japan.
Apple iPhone 6 will be available in three variants – 16GB, 64GB and 128 GB for $199 (around €154/Rs.12,100), $299 (around €231/Rs.18,200) and $399(around €310/Rs.24,300) respectively, where as the bigger model will also be available in three storage variants-16GB, 64GB and 128 GB for $ 299 (around €231/Rs.18,200), 399(around €310/Rs. 24,300) and $499(around €385/Rs. 30,350) respectively under two year contract.
Apple Watch price and availability details:
Though the new iPhone 6 series devices are slated to hit stores next week, Apple Watch will only be made available in early 2015 starting at $349 (around €270/21,250) initially in the USA.
Key specifications of Apple iPhone 6 and iPhone 6 Plus:
| | | |
| --- | --- | --- |
| Model | Apple iPhone 6 | Apple iPhone 6 Plus |
| Display | 4.7-inch LED-backlit IPS screen with Retina HD (aka full HD) with 1334 x 750p resolutionPixel density: 326 ppi (pixels per inch)Add-ons:- Fingerprint-resistant oleophobic coating on front- Dual-domain pixels for wider viewing angles | 5.5- inch LED-backlit IPS screen with Retina HD (aka full HD) with 1920x1080p resolutionPixel density: 401 ppi (pixels per inch)Add-ons:- Fingerprint-resistant oleophobic coating on front- Dual-domain pixels for wider viewing angles |
| OS | iOS v8.0 (wider availability of the new OS version to other Apple devices from 17 September) | iOS v8.0 (wider availability of the new OS version to other Apple devices from 17 September) |
| Processor | 20-nanometer class based second generation 64-bit A8 chipset which is 25-percent faster (50-percent faster graphics too) than the A7 in iPhone 5S.It is aptly supported by second generation, M8 motion co-processor | 20-nanometer class based second generation 64-bit A8 chipset which is 25-percent faster (50-percent faster graphics too) than the A7 in iPhone 5S.It is aptly supported by second generation, M8 motion co-processor |
| Storage capacity | 16GB/64GB/128GB | 16GB/64GB/128GB |
| Camera | Main: New 8-megapixel iSight camera with 1.5µ pixels, f/2.2 aperture, True-Tone flash, hybrid IR filter, five-element lens, sapphire crystal lens cover,Front: 1.2-megapixel FaceTime camera with f/2.2 aperture, auto-HDR,720p HD video recording | Main: New 8-megapixel iSight camera with 1.5µ pixels, f/2.2 aperture, True-Tone flash, hybrid IR filter, five-element lens, sapphire crystal lens cover, Optical Image stabilization,Front: 1.2-megapixel FaceTime camera with f/2.2 aperture, auto-HDR,720p HD video recording |
| Battery | Talk time: up to 14 hours (3G)Standby time: close to 10 days (250 hours) | Talk time: up to 24 hours (3G)Standby time: close to 16 days (384 hours) |
| Network | 3G & 4G-LTE (with new VoLTE technology for high quality voice-calling) | 3G & 4G-LTE (with new VoLTE technology for high quality voice-calling) |
| Add-ons | Finger-print sensor (much better Tough-ID security feature), Wi-Fi (802.11a/b/g/n/ac), Wi-Fi calling (in select markets), Bluetooth v4.0, NFC (Apple wireless Pay feature), GPS/GLONASS | Finger-print sensor (much better Tough-ID security feature), Wi-Fi (802.11a/b/g/n/ac), Wi-Fi calling (in select markets), Bluetooth v4.0, NFC (Apple wireless Pay feature), GPS/GLONASS |
| Dimensions | 138.1 x 67.0 x 6.9 mm | 158.1 x 77.8 x 7.1 mm |
| Weight | 129 g | 172 g |
| Colours | gold, silver or space gray | gold, silver or space gray |
| Price (with two-year contract) | 16GB: $199 (around €154/Rs.12,100)64GB: $299 (around €231/Rs.18,200)128GB: $399(around €310/Rs. 24,300) | 16GB:$299(around €231/Rs.18,200)64GB:$399(around €310/Rs.24,300)128GB:$499(around €385/Rs.30,350) |