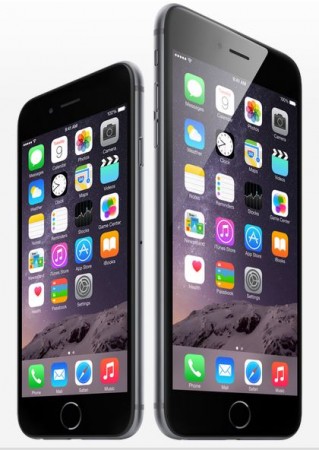 Apple's recently launched devices – the iPhone 6 and iPhone 6 Plus – will finally hit the world's largest smartphone market next month as Chinese regulatory has approved it after the Cupertino giant addressed software security concerns raised by the regulators.
The iPhone 6 and iPhone 6 Plus was supposed to hit China on 19 September along with USA, Great Britain, France, Germany, Australia, Japan, Hong Kong, Singapore, Australia, and Puerto Rico but was delayed indefinitely after failing to get approval from Chinese regulatory.
However, the issue has been solved now after Apple addressed software security concerns raised by regulators, paving the way for the company to fix the release date on 17 October and will be available on three Chinese carriers, Reuters quoted Apple as saying.
It was reported that demand for iPhone 6 could be huge in China like in the past and the device believed to be smuggled from Hong Kong and Singapore were available in the grey market for exorbitant price with no release date set. Apple suppliers told Reuters that the delay in release (in China) "did not have an impact on production" and "are confident they can keep up the demand" when the device hits the country.
However, a source from a major supplier told the news agency that "We aren't seeing any unexpected order demand because of China right now" and that "everything is operating on schedule."
"Our capacity around this time of the year always faces a certain amount of pressure, though this year isn't any worse than other years," spokesman for Taiwan-based iPhone assembler Pegatron Corp told Reuters.
Research firm Gartner has projected good business for iPhone 6 in China, estimating sales of 10 million units per quarter but it is to be seen whether it will translate into reality.
Apple Inc. has released 4.7-inch iPhone 6 and iPhone 6 Plus (5.5-inch display) and the devices have received tremendous response from gadget lovers. Both the models have similar features except for the screen size and battery. The iPhone 6 has a 1334 x 750p resolution (326 ppi pixels per inch) screen resolution and battery with 14 hours (3G) talk time and 10 days (250 hours) standby time, while the iPhone 6 Plus has a 1920x1080p resolution (401 ppi pixels per inch) and battery with talk time up to 24 hours (3G) and standby time close to 16 days (384 hours).
Both the devices are powered by a 20-nanometer class based second generation 64-bit A8 chipset, run on iOS v8.0 operating system, and houses an 8MP iSight camera and 1.2-megapixel FaceTime camera. They come packed with 16GB/64GB/128GB storage and have add-ons like fingerprint-resistant oleophobic coating on front- Dual-domain pixels for wider viewing angles, Bluetooth v4.0, NFC, Wi-Fi and GPS/GLONASS.
The iPhone 6 costs $199 with two-year contract and $649 without contract, while the iPhone 6 Plus has a price tag of $299 (with two-year contract) and $749 (without contract).