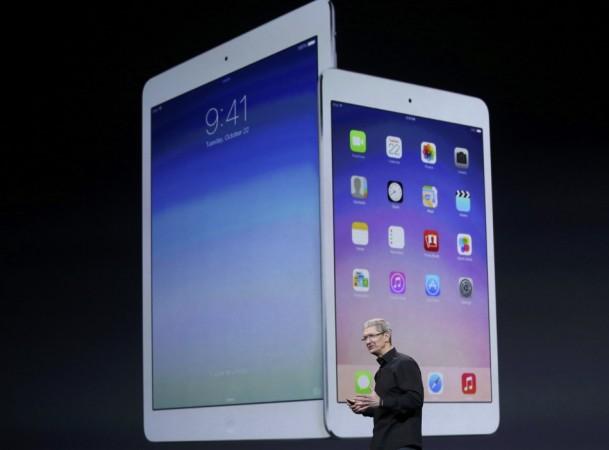 Apple Inc. is all set to launch iPad Air 2 aka iPad 6 on Thursday a few weeks after unveiling its much-hyped iPhone 6 and iPhone 6 Plus. The Cupertino giant is also expected to launch iPad Mini 3, and 12in Retina MacBook Air along with the iPad, besides talking about Apple TV platform.
Apple's CEO Tim Cook is expected to kick of the event at the company's headquarters in California at 10am PT/1pm ET (10:30pm IST).
Apple iPad Air 2 Launch Event Timing Across the Globe:
San Francisco - 10am
New York - 1pm
London - 6pm
Amsterdam - 7pm
Johannesburg - 8pm
Bangkok - 1am (Friday)
Hong Kong - 2am (Friday)
Seoul - 3am (Friday)
Sydney - 5am (Friday)
Apple Inc. will live stream the launch event on its website on Thursday. MacBook, iMac, and Mac Pro users with Safari browser and run Mac OS X 10.6.8 can watch the event live online.
Users of iPhone and iPad devices can watch the event live if they use Safari browser and are running iOS 6.0 or later. The owners of second or third generation Apple TVs can also live stream the launch event through the media center device via a special Apple events app.
Apple Inc. hasn't revealed the specifications of iPad Air 2 but several reports that have appeared so far have claimed that it will come with lots of upgrades from internal hardware to colour. The device is expected to sport a 9.7-inch retina display, powered by second-generation 64-bit architecture-based 20-nm class A8 CPU, and run on updated version of iOS 8.0. It may come packed with 2GB RAM with 16GB, 32GB and 128GB internal memory option and come in colours like gold, silver grey and black.
The device may also have an 8.0-megapixel camera, FaceTime HD front camera and feature add-ons like Touch-ID finger print sensor, 0.5 slimmer than iPad Air.