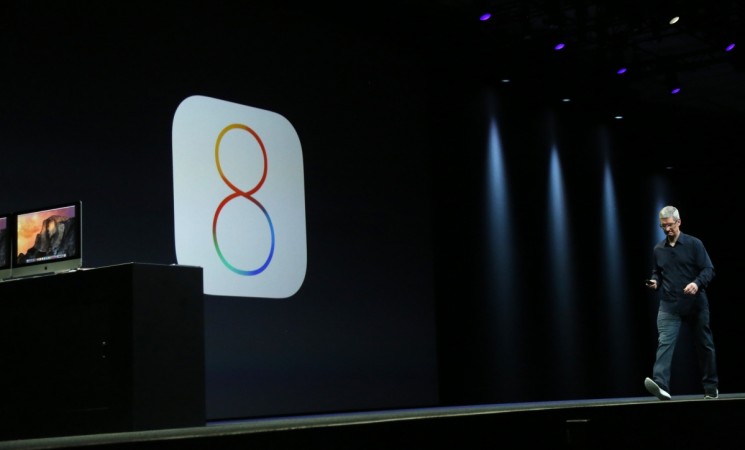 Apple Inc. kicked off its much-awaited annual Worldwide Developers Conference (WWDC) 2014 in San Francisco on Monday, unveiling its latest operating system iOS 8, which the company labeled as "the biggest release since the launch of the App Store." However, in what is now seen as a mere imitation, some of the so-called new features in iOS 8 have been already present in Google's OS Android.
Here are some of the features of iOS 8, which are seen in Android:
Interactive Notifications
This feature will let iPhone and iPad users respond to notifications like messages, Facebook posts and more, without launching an app. However, this feature has been there in Android since 2012.
iCloud Photo Library
Apple users can store only 1,000 photos for upto 30 days in the past but the new iCloud Photo Library allows users to automatically store them in the cloud for upto 5GB free. It gives easy access to all of your photos and videos anytime, anywhere with options to organize the photos. The photos can be accessed from all your Apple devices.
QuickType Keyboard
This app learns typing habits of the user and starts suggesting favorite phrases and words, despite using a third-party messaging app. However, Android users have been using this feature for many years now. There are many other third-party keyboards which have predictive features.
Android users have been enjoying this feature through Google+ photos, which automatically store photos in the cloud. Unlike iCloud Photo Library in iOS 8, Google offers unlimited storage.
iCloud Drive
It provides online cloud memory service to iPhone, iPad, Mac and PC users for storing various types of documents that can be edited and shared. The service will be free for 5GB storage but users have to pay $0.99 (around ₹58) subscription fee for 20GB per month, and $3.99 (around ₹237) for 200GB.
This service has been available for Android users through Google Drive that allows 15GB free storage.
New Siri
The voice assistant application can understand more dictation languages, including Indian English. Users can say "Hey Siri" to activate the service. One can also use Siri for music identification app Shazam. Meanwhile, Android 4.4 owners can launch Google Now voice assistant by calling out "OK Google Now".
New Messaging App
iMessage users will now be able to send audio and video messages to friends. It is similar to Snapchat on Android, and WhatsApp.
TestFlight and App Previews
TestFlight allows users of Apple devices to beta test apps before they are released, while App Previews hepls users to watch the video trailer of an app before downloading it. Interestingly, Android users have been allowed to beta test an app for a while now, and video demos of apps are are always added on Google Play.
Widgets
Apple users can have access to widgets in the pull-down Notification Center of iPhone and iPad devices. Android users have been using this feature for quite a while.