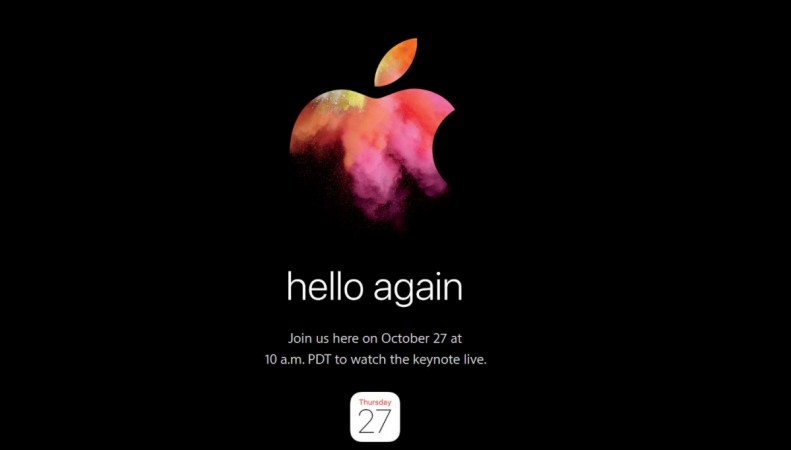 It is going to be an important day for Apple, the tech giant is expected to update the long-neglected Mac line on October 27.
Apple will be holding the event on Thursday at its campus in Cupertino, California, where it is widely expected to announce the latest MacBook Pro and iMacs. Since not everyone will be attending the event, the iPhone-maker will be live streaming the entire presentation for the world to watch.
The Mac event, like other Apple events, will be webcasted on the company's official website. The keynote presentation is scheduled to start at 10 am PDT (10.30 pm IST/ 1pm EST). In order to watch the event, there are specific set of requirements like device and browser compatibility.
Apple uses HTTP Live Streaming (HLS) technology, which is only compatible with select Apple devices such as iPhones, iPads, iPod touch with Safari on iOS 7.0 or later, a Mac with Safari 6.0.5 or later, OS X v10.8.5 or later or a Windows PC with Microsoft Edge on Windows 10.
In case viewers are live streaming via Apple TV, it is only possible via second-fourth generation Apple TV running software 6.2 or later.
What to expect?
Apple is expected to launch two new MacBook Pro models with 13-inch and 15-inch screens. Also, the company might upgrade its iMacs and launch a new MacBook Air. Nothing is official yet, but it will be on Thursday.
Apple Mac launch timing details:
| | | |
| --- | --- | --- |
| City | Time | Time-Zone |
| San Francisco (U.S.A. – California) | Thursday, Oct. 27, 2016, 10:00:00 | PDT |
| New York (U.S.A. - New York) | Thursday, Oct. 27, 2016, 13:00:00 | EDT |
| Ottawa (Canada- Ontario) | Thursday, Oct. 27, 2016, 13:00:00 | EDT |
| Rio de Janeiro (Brazil – Rio de Janeiro) | Thursday, Oct. 27, 2016, 14:00:00 | BRT |
| London (United Kingdom – England) | Thursday, Oct. 27, 2016, 18:00:00 | GMT |
| Paris (France) | Thursday, Oct. 27, 2016, 19:00:00 | CET |
| Barcelona (Spain) | Thursday, Oct. 27, 2016, 19:00:00 | CET |
| Berlin (Germany) | Thursday, Oct. 27, 2016, 19:00:00 | CET |
| Amsterdam (Netherlands) | Thursday, Oct. 27, 2016, 19:00:00 | CET |
| Johannesburg (South Africa) | Thursday, Oct. 27, 2016, 19:00:00 | SAST |
| Moscow (Russia) | Thursday, Oct. 27, 2016, 20:00:00 | MSK |
| Abu Dhabi (United Arab Emirates - Abu Dhabi) | Thursday, Oct. 27, 2016, 21:00:00 | GST |
| Islamabad (Pakistan) | Thursday, Oct. 27, 2016, 22:00:00 | PKT |
| New Delhi (India – New Delhi) | Thursday, Oct. 27, 2016, 22:30:00 | IST |
| Indonesia (Jakarta) | Friday, Oct. 28, 2016, 00:00:00 | WIB |
| Beijing (China - Beijing Municipality) | Friday, Oct. 28, 2016, 01:00:00 | CST |
| Hong Kong (Hong Kong) | Friday, Oct. 28, 2016, 01:00:00 | HKT |
| Singapore (Singapore) | Friday, Oct. 28, 2016, 01:00:00 | SGT |
| Taipei (Taiwan) | Friday, Oct. 28, 2016, 01:00:00 | CST |
| Seoul (South Korea) | Friday, Oct. 28, 2016, 02:00:00 | KST |
| Tokyo (Japan) | Friday, Oct. 28, 2016, 02:00:00 | JST |
| Canberra (Australia - Australian Capital Territory) | Friday, Oct. 28, 2016, 03:00:00 | AEST |
Related
Redesigned MacBook Pro leaks ahead of launch: What's a touch strip doing on the keyboard?
Apple event roundup: What to expect from 'hello again' event on October 27