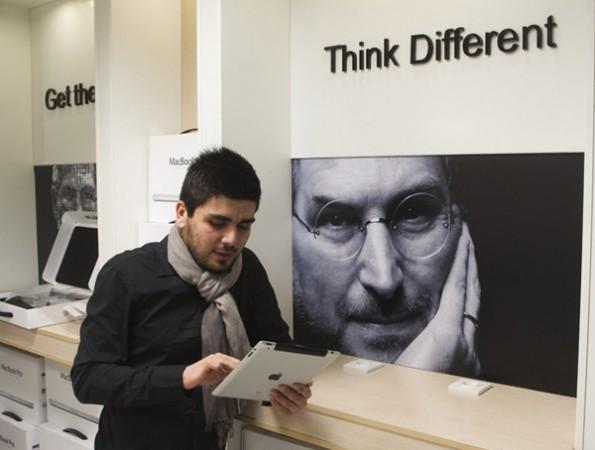 American technology firm Apple, despite losing a significant chunk of its share in the global market, still continues to dominate the tablet business with high unit shipments.
According to IDC's (International Data Corporation) report on global tablet shipment and market share for fourth quarter of 2012, tablet shipments reached a new height with an astronomical 52.5 million tablet shipments worldwide.
The research firm reported that with 52.5 million shipments, global tablet market grew 75.3 percent year-over-year in 4Q12, 22.6 million up from 29.9 million units shipped in 4Q11.
Market leader Apple made a total shipment of 22.9 million units with 48.1 percent growth over the same quarter of 2011. Despite Apple's strong growth, its market share declined to 43.6 percent, 8.1 percent down from 51.7 percent in 4Q11. Its declined growth is attributed to strong competition from rival Samsung.
Samsung recorded 263 percent year-to-year growth with a total shipment of close to 8 million units (including Android and Windows based tablets). The South Korean company came second with 15 percent market share, up from 7.3 percent in Q4, 2011.
E-commerce giant Amazon.com is placed third with 11.5 percent market share and increased total shipments of almost 6 million units, up 1.3 million unit shipments from 4.7 million sales in Q411. Taiwan-based computer maker ASUS (5.8 percent) and Barnes & Noble (1.9 percent) filled the fourth and fifth spot, respectively.
Microsoft failed to elicit much attention for its 'Surface' tablet PC and also in the December holiday season. However, many believe that Microsoft's Surface's credibility can't be questioned based on its sales report in the first four months of its release.
"We believe that Microsoft and its partners need to quickly adjust to the market realities of smaller screens and lower prices. In the long run, consumers may grow to believe that high-end computing tablets with desktop operating systems are worth a higher premium than other tablets, but until then ASPs on Windows 8 and Windows RT devices need to come down to drive higher volumes. ", said Ryan Reith, program manager, Mobile Device Trackers at IDC.
Growth Table of Top 5 Tablet Vendors' with Market Share and Shipments (Fourth Quarter 2012): IDC
Vendors

4Q11 Market

Share

4Q11

Shipments

4Q12 Market

Share

4Q12

Shipments

4Q11/4Q12

Growth

(Shipments)

1)Apple

51.7 %

15.5

43.6 %

22.9

48.1 %

2)Samsung

7.3 %

2.2

15.1 %

7.9

263.0 %

3)Amazon.com Inc

15.9 %

4.7

11.5 %

6.0

26.8 %

4) ASUS

2.0 %

0.6

5.8 %

3.1

402.3 %

5) Barnes & Noble

4.6 %

1.4

1.9 %

1.0

-27.7 %

Others

18.5 %

5.5

22.1 %

11.6

108.9 %

All vendors

100 %

29.9

100 %

52.5

75.3 %
(Shipments in millions)
The tablet market's astonishing 75 percent growth is testimonial to fact that more and more consumers are steering away from desktop PCs to cheaper and more portable tablet PCs.
IDC's recent PC shipment report (Q4, 2012) too pointed that PC Sales declined 6.4 percent compared to the same quarter in 2011.