Annual Thanksgiving shopping spree Black Friday just went live in the US, and many retailers — big and small — are offering mouth-watering deals on a wide array of product categories, ranging from consumer electronics such as mobile phones, gaming consoles (also titles), home appliances to sports gear, outdoor excursion equipment, fashion apparels and books.
In our special segment, we are listing Apple-exclusive deals on iPhones, iPads and Watch series, which are just too irresistible to look away from.
Apple iPhones:
iPhone X:
Sadly, there are only a few Black Friday deals on Apple's most advanced mobile: iPhone X. Currently, there is one lucrative offer we were able to find: in Best Buy. It is ready to give a nearly $250 cash gift voucher on the iPhone X, provided the buyer is ready to exchange their old iPhone [HERE].
If you go for a Sprint contract, you can save up to $350 [HERE] against the MRP, which starts at $999.
Walmart is offering $300 gift cards on Apple iPhone X for prospective buyers who go for AT&T or Verizon device purchase plans.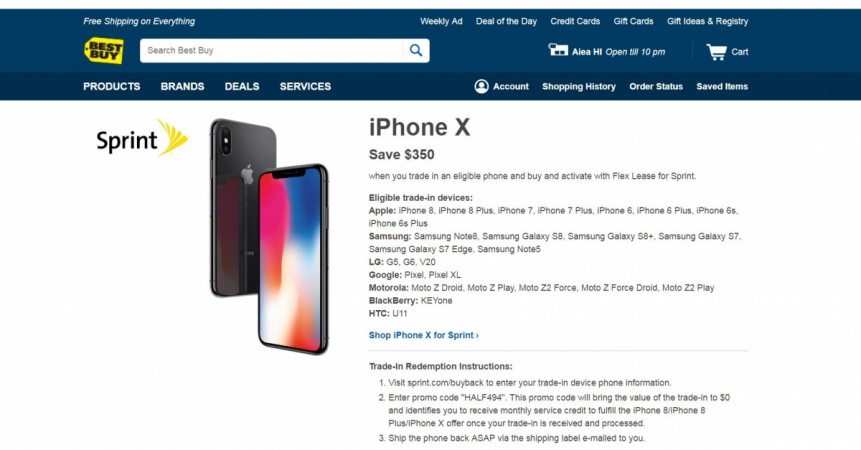 iPhone 8 series:
Target is giving a $250 gift card for the Apple iPhone 8 (& 8 Plus) (HERE).
Mobile service providers Sprint, AT&T and Verizon are offering pretty good deals in terms of monthly payments and services if you chose their contract.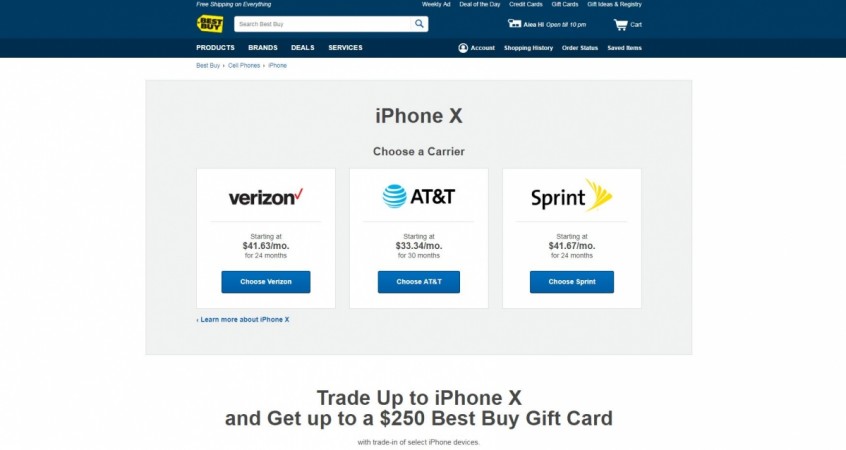 Like the iPhone X, Walmart is also offering a $300 discount on both the iPhone 8 Plus and the iPhone 8 provided users chose to join either AT&T or Verizon.
Apple iPhone 7:
Walmart is offering $49 off on the iPhone 7 32GB (HERE)
Apple iPads:
Target is offering select iPad models with up to $120 discount (HERE)
Apple iPad (5th generation) 32GB Gold can be purchased for $249 against the $329.99 MRP (you save $80.99) on Walmart (HERE).
Walmart is also giving up to $250 off on Apple iPad mini 4 (HERE).
Best Buy is offering $80-150 discount on the 2017-series 9.7-inch iPad (HERE), 10.5-inch iPad Pro (HERE) and also the iPad mini 4 (HERE).
Target is offering $80-120 off on select Apple iPad models (HERE).
Apple Watch:
There are no Black Friday deals on the latest Watch Series 3, but retailers are giving lucrative offers on the first-generation Apple Watch.
Target is giving up to $70 discount on Apple Watch Series 1 (HERE)
For more deals, read this: Black Friday 2017 tech deals live updates: Best sale offers on iPhones, iPads, Samsung Galaxy Note 8 and others from all over the web
Apple is also offering gift cards on the purchase of products from the Apple Store, but they are minuscule compared to other retailers.
Even eBay is offering around $20-30 off on select models of iPhones.
Stay tuned. Follow us @IBTimesIN_Tech on Twitter for the latest news on Apple products and more.