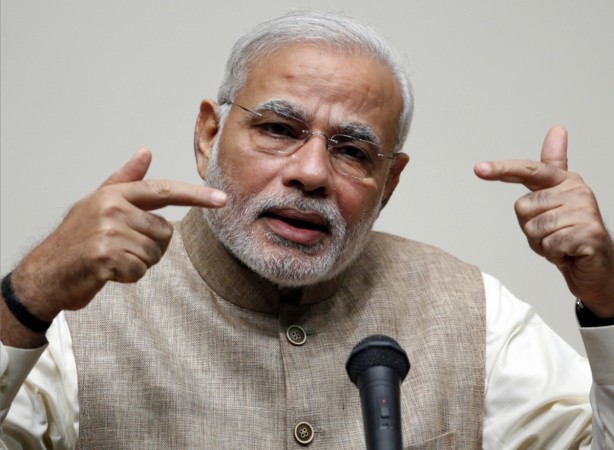 Prime Minister Narendra Modi touched on several sensitive issues in his recent, and first, global interview to CNN, from appeasing Indian Muslims to taking on China in terms of economic growth.
Here are some key excerpts from the interview [Credits: CNN]
Will India be The Next China? – "I have a clear roadmap"
Note - When asked by Fareed Zakaria about India's potential to reach China's growth rate, Modi seemed optimistic and came across as a man with a plan.
CNN: After your election, people have begun asking again a question that has been asked many times for the last two decades, which is, will India be the next China? Will India be able to grow at 8 percent, 9 percent a year consistently and transform itself and thus transform the year?
Modi: "India does not need to become anything else. India must become only India. This is a country that once upon a time was called the golden bird. We have fallen from where we were before, but now we have the chance to rise again. If you see the details of the last five or 10 centuries, you will see that India and China have grown at similar paces.
It is my absolute belief that Indians have unlimited talent. I have no doubt about our capabilities. I have a lot of faith in the entrepreneurial nature of our 1.25 billion people. There is a lot of capability and I have a clear roadmap to channel it."
On China's Increasing Aggression on East China Sea – "We should trust China"
Note- Modi concluded his bilateral meet with Chinese President Xi Jinping on a mixed note, and while raising sensitive border issues with the neighbour, he also showed a level of camaraderie with the latter, indicating that he wanted Indo-China bonds to strengthen.
CNN: China's behavior in the East China Seas and the South China Seas over the last two years has worried many of its neighbors. The head of the government of the Philippines and Vietnam have made very sharp statements worrying about it. Do you worry about it?
Modi: This is an era of partnership. Everyone will have to seek and extend help mutually. China is also a country with an ancient cultural heritage. Look at how it has focused on economic development. It's hardly the sign of a country that wants to be isolated. We should have trust in China's understanding and have faith that it will accept global laws and will play its role in cooperating and moving forward.
Does he wish to have the same authority as that of the Chinese government? – "Democracy let someone like me form a poor family become the PM"
Note - While Modi is often seen as an authoritarian figure who likes to take complete charge, he seems to have shunned the authoritative form of government in China for the positives of democracy in India.
CNN: So you don't look at the power of the Chinese government and wish you had some of that authority?
MODI: See, I have seen the strength of democracy. If there was no democracy then someone like me, Modi, a child born in a poor family, how would he sit here? This is the strength of democracy.
On India's relations with the United States - "India and America are bound by history and culture"
Note - Modi is set to visit the United States soon, in a major turnaround after having been blacklisted by the US in 2005, and having been denied a visa to enter America for so many years, due to his alleged role in the 2002 Gujarat riots.
CNN: There are many people in the United States and some in India who wish that the United States and India were much closer allies. The world's oldest democracy, the world's biggest democracy, but somehow that has never happened and there have always been these frictions and difficulties.
Do you think it is possible for the United States and India to develop a genuinely strategic alliance?
MODI: I have a one-word answer -- yes. And with great confidence I say yes. Let me explain. There are many similarities between India and America. If you look at the last few centuries, two things come to light. America has absorbed people from around the world, and there is an Indian in every part of the world. This characterizes both the societies. Indians and Americans have co- existed in their natural temperament.
Now, yes, for sure there have been ups and downs in our relationship in the last century, but from the end of the 20th century to the first decade of the 21st century, we have witnessed a big change. Our ties have deepened. India and the United States of America are bound together by history and by culture. These ties will deepen further.
On Crimes Against Women – "Dignity of women is our collective responsibility"
Note- Modi had addressed the issue of rapes and crimes against women during his Independence Day speech, calling for a social overhaul in familial attitude towards the son and the daughter. He once again called for the 'revival of family culture' and 'empowerment of women through education' as a way to address the issue.
CNN: Why is it you think that there is persistent discrimination and violence against women in India and what do you think can be done about it?
MODI: Look, us political pundits shouldn't tangle ourselves up in knots by searching for the root cause of this problem. More damage is done by statements from political pundits.
Dignity of women is our collective responsibility. There should be no compromise in this matter. There should be no erosion in the law and order situation. We have to revive the family culture in which a woman is respected and considered equal.
Her dignity encouraged. The main thing here is girl/child education. By doing so the possibility of empowerment will increase. On August 15th my government pushed ahead a movement called Educate the Girl, Save the Girl.
On Al Qaeda's threat of an Indian Wing – "Indian Muslims will not dance to their tune"
Note - When Al Qaeda recently issued a terror threat in India by announcing a new Indian wing of its terror outfit, several terror experts believed that this was an open attack on Modi, often seen as a Hindutva proponent. While Modi has hardly ever spoken out in support of Indian Muslims, in this interview, he took a rare stance, and put faith in Indian Muslims to stay away from Al Qaeda's lure.
CNN: Ayman Zawahiri, the head of al Qaeda, has issued a video and an appeal trying to create an al Qaeda, really, in India, South Asia he says, but the message was really directed towards India and he says that he wants to free Muslims from the oppression they face in Gujarat, in Kashmir. Do you think -- do you worry that something like this could succeed?
MODI: My understanding is that they are doing injustice towards the Muslims of our country. If anyone thinks Indian Muslims will dance to their tune, they are delusional. Indian Muslims will live for India, they will die for India. They will not want anything bad for India.
On Yoga – "Yoga synchronizes the heart, the mind, and the body"
CNN: You gave a long speech about the benefits of yoga. Do you do yoga?
MODI : I'm fortunate that I was introduced to the world of yoga. That has been very useful to me. I always advise everyone to make this a part of their lives.
See, sometimes we notice the mind works on one thing, the body on another. And time brings us in conflict. Yoga synchronizes the heart, the mind, and the body. That is yoga.