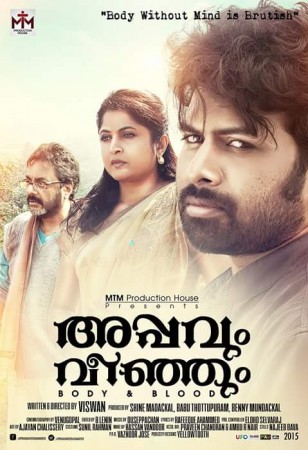 Malayalam movie "Appavum Veenjum", starring Sunnu Wayne, Pratap Pothen and Ramya Krishna that was released on 13 June, has opened to highly positive reviews.
The movie is rated as a good emotional thriller by most of the critics. The major highlight of the movie is touted to be the performances of the lead actors.
Reviewers say the picturesque visuals, which are supported by great music, make this thriller worth a watch.
Here are the reviews of "Appavum Veenjum" by various critics:
The picturesque canvas transports you to a different world. The serenity of the sequences is well supported by the restraint in the noise both in the sequences and in the musical assortment. The silent and mystic undercurrents do give a definite character to the ambiance of the plot. The cool mountain mists of the backdrop breath a sizzling chill right into the narrative and is unflinchingly held intact. That's what makes the movie Appavum Veenjum, scripted and directed by Viswan, worth watching.
The porous narration coupled with lack of clarity in contexts leave several empty spaces in the course. There is a story, a great one of course, but it could have been narrated more vehemently. The void transforms intense gazes into long stares and expressions into morbid attempts to explore passion. The drama that trails a sluggish path all along gains heat only towards the climax.
Sunny Wayne is impressive as a musician with an irresistible charm. But the role has the shades of the roles he usually does. Prathap Pothen blows hot and cold as the rich drunkard. Sometimes he goes a bit overboard but generally holds forte. Remya Krishnan in her comeback role looks aged but is still ravishing. Her character has a lustful air about it and she competently handles it. Balu Varghese, Sunil Sugatha, Leshoy, Swetha Menon, Geetha Vijayan, and Devi Ajith also do prominent roles. Ousepachan's songs are mellifluous and the cinematography is excellent. Appavum Veenjum is a different take on man, woman relationship and patient viewers can find it gratifying.
The movie is written and directed by Vishwanath. Venugopal is the cinematographer. He temptingly captures the picturesque locales of Wagamon and Kuttikanam. Music is by Ousepacchan. A little surprise in the box is Ousepacchan has also sung and acted in a song along with Pratap Pothen's daughter Keya in the movie.
The film justifies its prerelease claim as a musical thriller and has the potential to be a romantic thriller too. When a visibly shaken Pratap wielding a gun in his hands, the film achieves its promise as a thriller.