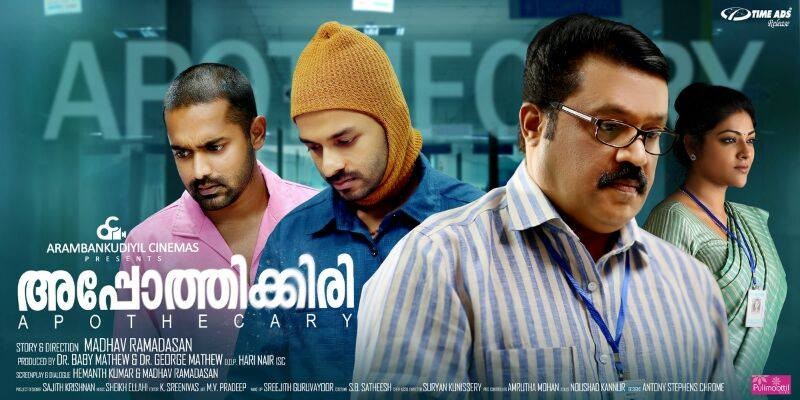 "Apothecary," which released on 7 August has opened in theatres with positive reviews. The film directed by Madhav Ramadasan stars Suresh Gopi, Jayasurya and Asif Ali in the lead.
"Apothecary" is rated as a must watch film by most of the reviewers. The film is appreciated for its extremely good direction by Madhav and excellent performance by the actors, especially Jayasurya.
The story of "Apothecary" revolves around the life of a doctor who follows a particular medical system in a hospital. His attitudes and perspectives about life are changed after coming across a few patients. Suresh Gopi plays the character of Dr Vijay Nambiar, Jayasurya plays the role of a patient named Subi Joseph, Asif Ali is seen as Prathapan, Abhirami as Dr Nalini Nambiar who is Dr Vijay's wife, Meera Nandan as Daisy, the love interest of Subi and Indrans plays as Subi's father Joseph.
"Apothecary" is produced by Dr Baby Mathew and Dr George Mathew under the banner of Arambankudiyil Cinemas. The script is done by Madhav and Hemanth Kumar, whereas the cinematography is done by Hari Nair. The music is tuned by debutant Sheikh Ellahi.
Check the review roundup of "Apothecary" below:
"Very few films are capable of making you smile and cry at the same time and that is possible only for such people who have gone deep in to the characters and the story line. Madhav Ramadasan has done a magic with the 'Apothecary' script. The best performance would be by Jayasurya. He was not acting but living the character and there is every possibility that a National Award may knock his door. Similarly, superstar Suresh Gopi has made a sensational comeback with this film. Even though, Asif Ali's presence in the film is very less, he has done his part well. All others, including Abhirami, Meera Nandan, Thampi Antony and Arun Raghavan has done well in the film," said Blue Fox Media.
"The thriller movie deals with a serious issue and wonderfully directed and narrated by Madhav and seems to be a one of the masterpiece of his narration. Lead cast has done stupendous job and portrayed the role nicely. Supporting characters played pivotal roles. The plot is tightly knitted and rhythm of the movie is good. Music flows well with every passing scene," Sandira.com
"Madhav Ramadasan has composed a different narrative style for this film and the script of the film is well written. 'Apothecary' has made an attempt to stand out as a good film with a message other than the usual masala films," said Pepper Spray Media.
"The movie is set in a good rhythm and it doesn't fail to engage the audience to the very end. This is not the victory of a director or the actors but the team. Everybody played their part well. The cinematography is brilliant though there is not much creative framing possibilities inside a hospital Hari Nair has overcame the limitation. Music by Shiek Ellahi blends with the emotions and frames. Apothecary is an inspiring medical drama and one of the best of its kind. Apothecary is not a movie for the ones who goes in for light hearted movies. Apothecary is a must watch for serious movie goers- Don't miss 'Apothecary'!", said Muyals.com