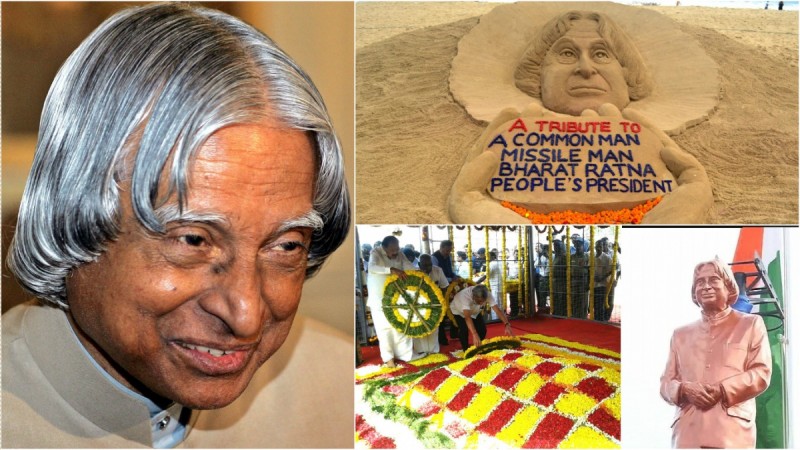 The first death anniversary of APJ Abdul Kalam falls on Wednesday, July 27. The former Indian president, who was also a scientist, author and professor, passed away in 2015 while addressing students at the Indian Institute of Management (IIM) in Shillong, Meghalaya.
Commemorating the death anniversary of the late people's president, a six-feet statue of Kalam has been unveiled in Rameswaram, Tamil Nadu and the foundation stone for his memorial has been laid at his hometown. Defence Minister Manohar Parikkar and Union Minister M Venkaiah Naidu, who attended the event shared the photos on their social media pages.
Check APJ Abdul Kalam's inspiring quotes
Indian Prime Minister Narendra Modi paid tribute to the missile man of the India. "Its been a year since our beloved Dr. APJ Abdul Kalam left us & created a void that is irreplaceable. My tributes to this great personality [sic]," Modi tweeted.
Many other celebrities and politicians have also paid tribute to Kalam, who has inspired thousands of youth all over the world.
Amit Shah
Dr. #APJAbdulKalam was a epitome of simplicity,hardwork and Morality. His teachings and vision will continue to inspire generations to come.
Nabam Tuki
Paying my rich tributes to Bharat Ratna & Former President of India Dr. #APJAbdulKalam on his death anniversary.
Rao Inderjit Singh
My tributes to the missile Man of India & former President Dr. A. P. J. Abdul Kalam on his death anniversary.
Sachin Pilot ‏
My tribute to Dr. #APJAbdulKalam on his first death anniversary. Your thoughts will continue to inspire us, Sir.
Ranjini Sasha Selvarajoo
There maybe cases of Salman Khan that we can forget but we cannot forget a wonderful human-being Padma Vibushan, Bharat Ratna and numerous prestigious awards and honours recipient, The Space Man of India-Mr Abdul Kalam Sir.It's been a year since you passed sire but your achievements and messages are deeply engraved in some of us.....a simple person who never shows off his smartness or titles but conquered every hearts with his speeches and quotes. Long live your dreams sire
Dharmendra Pradhan
My tributes to #APJAbdulKalam - the visionary scientist, who gave wings to the dreams of billions of Indians. Had a few opportunities to interact with him. Every moment spent with him was a learning of lifetime. #APJAbdulKalam
Rajeev Shukla
Remembering Dr. A. P. J Abdul Kalam Saheb on his Punya Tithi. A Great Personality who shall always be revered in History. Sat Sat Namam
-
-
-