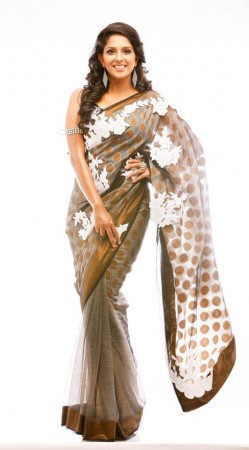 Kerala, which is currently reeling under a spell of moral policing and "Kiss of Love," was in for a shock recently when a bikini-clad photo of popular actress Aparna Nair went viral.
The photo was soon shared across all popular media by the highly "cultured" Kerala audience and made it to the topics of "Cultural degradation" in Kerala.
However, the photo turned out to be a morphed one.
An unperturbed Aparna came out with a humurous response to the affair: she posted her "Only Bikini pic" on her Facebook page, actually her childhood photo.
Her response and attitude towards the hoax picture got her huge applause from her fans and friends, who opined that there are no better answers to those who circulated the hoax picture.
So let's find out some of the interesting responses on Facebook to Aparna's post:
Arjun Marar: "hahhaaa.. thts a great caption indeed."
Vivek Krish: "Awesome photo caption, I've ever seen in my fB life... Let the haters go to Hell #RESPECT"
Hemanth M Suresh: "felt bad when i saw those pics... But for this post..kudooos chechi.... Keep going we love you."
Sarath Chandran K R: "Well thats an epic reply"
Kashi Nath: "Lol... gud reply t dese looser's. Thats my girl .. let em hater hate!!! #Respects"
Jithu Jithindas : "Ha ha ha great humour sense"
Ameo Reyn: "You could really improvise on that!!!"
Chander Reddy: "sweet an cute and we never want to see you like this any more"
Salman Farish: "Yes!!!! This caption reply for ur watsapp bikni pics...."
Praveen Sankaranarayanan: "Fortunately realy. don't do bikini roles in cinema aparna"
Nazirudheen Kolliyil: "Don't worry, you can try again now......if you wish."
Nikhil K Mohan: "V r dying to see one bikini foto which has been taken nw a dayz.."
Prasanth Athithara: "We all had one fortunately or unfortunately....hahaha...."
Vishnu Gopalakrishnan: "thats a gud answer for the watsapp rumor pic abt u appu...."