Former Andhra Pradesh Chief Minister, a sitting member of Rajya Sabha and senior Congress leader in the state, Nedurumilli Janardhana Reddy passed away at 5 am on 9 May, Friday, in the state's capital Hyderabad. He was 80.
Reddy is survived by his wife Rajyalakshmi and four sons-Ramkumar, Ashok Kumar, Gowtham and Bharath Kumar. His wife has also served as a minister in Andhra Pradesh.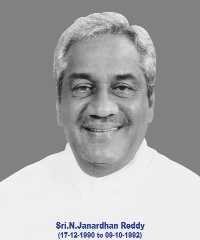 Reddy was admitted to Nizam's Institute of Medical Sciences (NIMS) in the city as he was suffering from a liver disease. The former CM's body has been now shifted to his residence in Somajiguda in the city.
Reddy served as the AP Chief Minister between 1990 and 1992. He was elected as Member of Parliament thrice from Bapatla, Narsaraopet and Visakhapatnam and allso worked as president of Andhra Pradesh Congress Committee (APCC).
Born on 20 February 1935 in Vakadu in Nellore district, he completed his BA and B.Ed degrees and married Rajyalakshmi on 25 May 1962. He entered politics in 1972.
Before becoming the chief minister, Reddy worked as the Andhra Pradesh State Minister for Revenue, Industries, Agriculture and Power portfolios between 1978 and 1983. He was the Minister of Agriculture, Forest and Higher Education portfolios between 1989 and 1990.
For the first time, he was elected to Lok Sabha as an MP in 1998 from Bapatla. He contested from Narasaraopet Lok Sabha constituency in 1999 elections and won the seat and was elected to Lok Sabha from Visakhapatnam constituency in 2004. In 2009, he was elected to the Rajya Sabha.
During his regime as the state's Chief Minister, the erstwhile CPI-ML People's War was prosecuted and he, along with his wife, survived a Naxalites attack on his life in 2007 near Nellore.
(Photo Credit: AP Government Official Site)
[ED:VS]