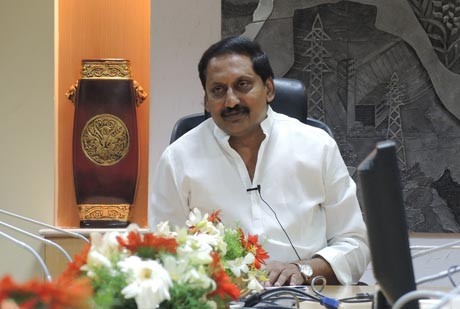 Nallari Kiran Kumar Reddy, the caretaker Chief Minister of Andhra Pradesh, is now said to be fully occupied with his plans to launch his own party in the state, slated to be divided into two - Telangana and Seemandhra.
Congress' Ongolu MP Magunta Srinivasulu Reddy said on 24 February that Kiran Reddy will announce his new party on 2 March in Rajahmundry and hold a rally in Tirupati later.
Kiran Reddy fought till the end to keep the state united and resigned when the Parliament passed the bill to split the state to form Telangana and the remnant Seemandhra.
Kiran Reddy met several supporters, including the Congress Ministers, MPs and MLAs in Hyderabad on Monday and elicited their opinion over plans of the new party and its policies, according to media reports.
State ministers - Shailajanath, Pithani Satyanarayana, MPs - Vundavalli Arunkumar, Sai Pratap, Harsha Kumar and Pabbam Hari, MLAs - J. C. Diwakar Reddy, Gade Venkata Reddy, Korla Bharati, Rowtu Surya Prakasha Rao, Vanga Githa, Pantham Gandhi, Anjibabu, MLCs - Paladugu Venkatrao and Reddeppa Reddy were among those who met Kiran Reddy during the day.
Kiran Reddy, who is from Pileru Assembly constituency in Rayalaseema region of AP, has planned to meet with representative associations and the leaders of farmers and student unions on Tuesday and Wednesday.
Media reports say that Kiran Reddy may opt 'Jai Samaikhyandra' as the name for his new party. He is planning to woo leaders into the new party from both Seemandhra and Telangana, as well as to contest in the forthcoming elections to the State Assembly and Lok Sabha.
Kiran Reddy has written, through a fax, to the Governor EL Narasimhan and urged him to relieve him from the onus of caretaker CM.
Before he became the chief minister on 24 November 2010, Kiran Reddy was made the speaker of Andhra Pradesh Legislative Assembly for one-and-a-half years from May 2009 to November 2010. Prior to that, the Congress government made him the government's chief whip for five years from 2004.
First, he was elected to the Andhra Pradesh Legislative Assembly in 1989 from his native Vayalpadu (Valmikipuram) Assembly constituency in 1989, after his father's death. Again he was elected to the Assembly in 1999 and 2004. Later, he served as a member of the Public Undertakings Committee and Assurance Committee.
Meanwhile, AP Pradesh Congress Committee president Botsa Satyanarayana, Union Minister K Chiranjeevi, AP Deputy Chief Minister Damodara Rajanarsimha, ministers - Ramreddy Damodar Reddy, Sunita Lakshma Reddy, DK Aruna, Kanna Lakshminarayana, Kondru Murali, Rajya Sabha member MA Khan, AP Assembly Speaker Nadendla Manohar and Lagadapati Rajagopal, who created ruckus in the Lok Sabha with the pepper spray act over the Telangana issue, have been summoned to Delhi by the Congress high command.
The AP Congress leaders are said to be racing to become the next Chief Minister of the united AP, in case the Congress high command decides to form a new government in the state, though for a shortwhile, till the elections in May.
On the other hand, Kalvakuntla Chandrasekhar Rao (KCR), who is hellbent to fulfill his dream of achieving Telangana state and to become its Chief Minister, is not moving out from Delhi since the Parliament passed the bill last week.
KCR is the president of Telangana Rashtra Samiti (TRS) and the Congress is seeking its merger with it as the Lok Sabha elections and Assembly elections are nearing. Whereas, KCR is firm in his stand that till Telangana is formed he would not think about the merger.