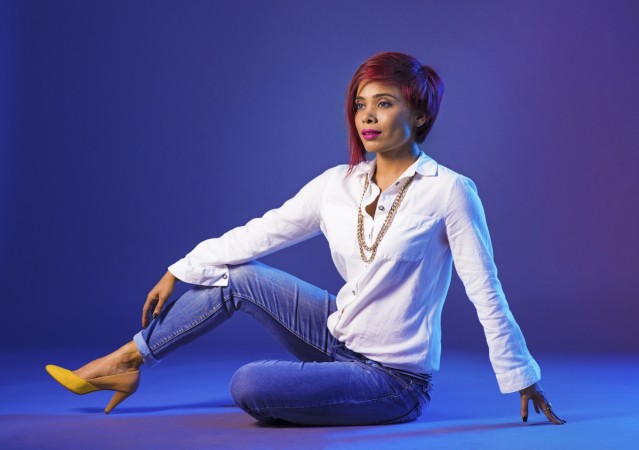 Tightening her shoelace and pushing her famous short tresses back, Sucheta Pal now trains several interested people in the art of Zumba fitness. A renowned in the field of Zumba, her journey to becoming the brand ambassador for Zumba® and earning the First Ladies felicitation awarded by President Ram Nath Kovind for her extraordinary achievement in the fitness sector and defeating the stereotypes wasn't a piece of cake.
Pal had her share of ups and downs before she rubbed shoulders with Aishwarya Rai Bachchan, Bachendri Pal and Deepa Karmakar during the First Ladies felicitation. In retrospect, Pal's story would seem like a Bollywood movie – she was a girl from small-town Ranchi, quit her cushy job at 25 and decided to dance! She recalls her journey in a conversation with International Business Times India.
Also read: You can't miss these mid-air dance moves of Katrina Kaif for a song sequence in Thugs of Hindostan [Videos]
Yes, this was back in the early 2000s -- way before dance shows became oh-so-popular and when the career wasn't considered a lucrative option.
Chance Pe Dance:
Pal found herself in the city of dreams joining a professional dance school in Mumbai. She survived on vada pavs and earned a living from three odd jobs while she danced her heart out for eight hours a day.
"I was shocked at the amount of hard work dancers put into their profession," Pal recalls. Having trained in Bharatanatyam for four years, dance came naturally to Pal. "For a short duration, dance gave me relief," she said.
While she was living the dancer's dream, life had other plans for Pal. In 2007, she was diagnosed with irritable bowel syndrome and social anxiety disorder. It was when she was combating the two ailments that she crossed paths with Zumba.
Fit as a fiddle:
"In 2009, I quit everything and moved to the US with my husband. I loved jazz and ballet but I was in search of fitness and that's when I came across Zumba," she said.
Sharing her life-changing experience, Pal still remembers walking out of the first class with her happiness knowing no boundaries. "Zumba lets you be who you without being judged. I danced my heart and my instructor was amazing!" a sense of enthusiasm taking over the instructor.
Through the fitness format, Pal successfully fought depression and anxiety, and a sense of confidence kicked it.
From stepping into the room in search of a fitness class, Pal went on to become a licensed Zumba fitness trainer in 2010. She was invited by Zumba® to become a Zumba Education Specialist aka ZES.
As the ball kept rolling, she went on to return to India to represent the brand, educate people about Zumba fitness, train interested fitness enthusiast to become a trainer and now, is the face of Zumba.
ABCZ: Anybody Can Zumba!
Given that Zumba is a form that merges different dance forms and is designed keeping the fitness not dance in mind, Pal reveals that anybody can try it.
"Today, Zumba fitness has changed the fitness domain. Anyone can be an instructor," she says. "I recently trained nine army wives in Jammu and Kashmir and they are now Zumba instructors in the state," she takes pride sharing. "The fitness industry is changing and through its changes, it is also empowering women," she adds.
However, she also points out that it is up to a person and the trainer to keep the quality intact. "I can train, motivate but the standard and quality is up to the person."
Fitness Mantra:
Though regular workout and Zumba fitness training keep Pal in shape physically, she says that the fitness medium helps her stay fit mentally as well. Pal uses dance therapy and she believes that it truly helps.
"Dance therapy is huge. It not only keeps your body fit but also empowers and keeps people happy," she says. The methodology not only helps people, especially women, de-stress. It is because of dance therapy that many have experienced a positive change in their lives, she explains.