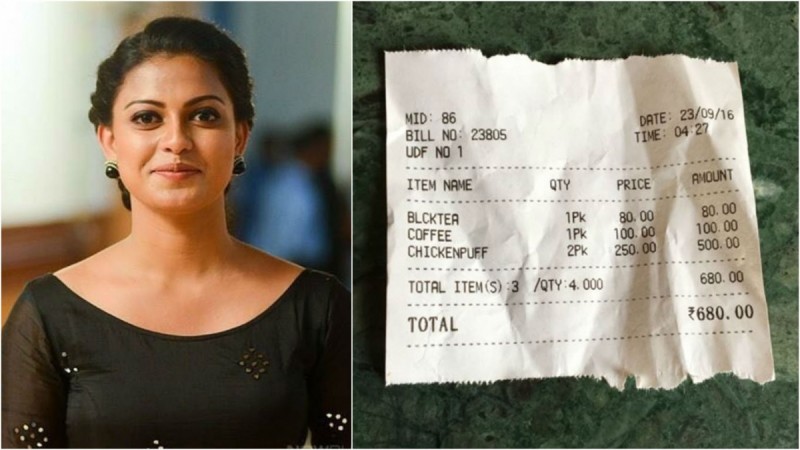 Social networking websites have been flooded with trolls and memes since Malayalam actress Anusree shared her experience of spending an exorbitant amount for snacks at a coffee shop at the Trivandrum International Airport on September 23.
The snack "puffs" has now become the hot topic of discussion for social media users after the actress said that she had to spend Rs 250 for chicken puffs at Kitchen Restaurant at the airport. Soon, netizens started creating trolls and memes on the actress and puffs.
Overwhelmed by the response of the netizens, the actress has shared more than 40 trolls on her Facebook page that have been doing the rounds on the social media with the caption: "Puffs Trolls :D Thank you all."
In a Facebook post on Friday, the actress had shared a photo of the bill of Rs 680 for a black tea, coffee and two chicken puffs. "Friends, today morning I had to pay Rs 680 for having two black coffee and puffs from the coffee shop Kitchen Restaurant at Trivandrum International Terminal. International airport, please do not shock us like this. NB: I share this in a hope that the authorities will do the right things for the common people [translated from Malayalam]," Anusree wrote on her social media page to highlight the matter to the concerned authorities.
Also read: How much would you pay for black tea, coffee and puffs? Here is what actress Anusree paid
Check the viral trolls and memes here:
What is your future plan Indhuchoodan?
I am thinking of starting an egg shop near airport
Samosa to Puffs: I have underestimated your reach.
Tomorrow's news:
Police found a huge collection of egg puffs after a raid that happened in a popular businessman's house.
Since I do not have enough cash to buy puffs, I am coming by flight.
Coffee shop owner to Anusree: We are doing this hunt for our living.
NRI: I am their regular prey
You threw away the necklace, do you know how much it costs?
It might cost the price of three burgers at the coffee shop in Thiruvananthapuram airport.
The expression of the puffs, which is being sold for Rs 20 after hearing the rate of puffs sold at airport.