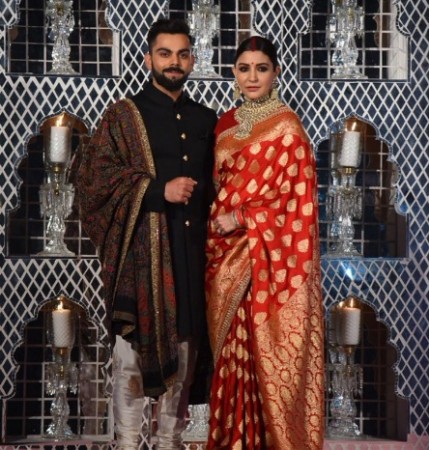 Indian cricket captain, Virat Kohli posted an inspirational message on social media on International Women's Day today. In a video, he said: "Men and women aren't equal. I really wish we were. Honestly, the fact is, it's easier to be one than the other. Sexual harassment, discrimination, sexism, domestic abuse and threats of violence... and the list goes on. Despite all of this, women rise and shine in all walks of life. Still, think they are equal? No, they are better than equal. To all the women all around the world, I wish you all a very happy Women's Day."
He captioned the video as: "Tag the extraordinary woman in your life who is #BetterThanEqual @Staywrogn @AnushkaSharma (with a heart emoticon) [sic]"
It is adorable to see how Virat never hesitates to praise his dear wife. She sure is an extraordinary woman who has created a unique position in Bollywood for herself because of her choices.
Talking about Women's Day, Anushka Sharma too wrote on Instagram: "rom that day on to now, I'm free and strong and all thats me, for the people who just let me be ... #HappyWomensDay to all those women who feel like this and men who help pave their way ! #dancetoyourownbeat#beoriginalbeyourself"
Virat Kohli and Anushka Sharma have always proven that they are one of the strongest couples. These quotes prove:
Virat during a media interaction said: "People who contribute off the field they deserve a lot of credit as well. My wife who keeps me motivated deserves a lot of credit. She's been criticised a lot in the past. But she's one person who's kept me going throughout the tour."
Anushka Sharma said: "Whenever an opportunity comes Kohli grabs it with both the hands."
On the occasion of Valentine's Day, Virat wrote: "Every day is a valentine day if you want it to be. You make everyday seem like one for me."
"Sir lady luck ka kamaal hai (I've got to thank the lady luck). You've (Gaurav) seen me, you know I had no brains before. Ever since the lady has come into my life, she's taught me a lot of things. I've learnt a lot, become more sensible in the last 4 years all because of her. She's taught me how to be more patient and taught me how to utilise the position you are in to the fullest," Kohli told Gaurav Kapur on Breakfast With Champions.
"Luckily I have never tried to change myself over the years. But the flip has been because of her. That period in England in 2014. Anushka was there in my life, she understood what I was going through so she kept me motivated. Her support helped me push through, however bad it was for me. She was a constant in that time... And then Australia happened (the tour in 2014-15 when Kohli scored four hundreds in four Tests) and I ended up scoring runs, in her presence. So it was a special thing for both of us because she also faced a lot of flak. We were being criticised and people were saying this is what happens when you allow girlfriends on the tour. I thought, 'if you don't think this is right then no one can be in a relationship'. According to you all - either get married or remain single. How can that be?" he told in a chat show.