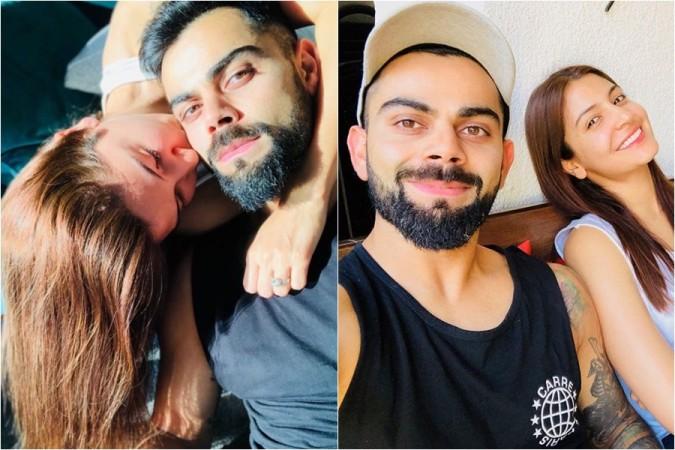 Ever since Virat Kohli and Anushka Sharma got married in Italy, the couple has been making headlines for their PDA on social media, giving everyone couple goals.
We all know how private the couple is in real life. However, Virat Kohli's recent cryptic tweet sent his fans into a frenzy. They started wondering whether the India cricket team captain was hinting at Anushka Sharma possibly being pregnant.
Virat took to Twitter a few days ago to share that a lot has been happening in his life, but didn't a single hint to his well-wishers what it was all about.
There's a lot that's happening right now. Fill you guys in real soon! ?

— Virat Kohli (@imVkohli) March 9, 2018
The tweet led his fans to speculate whether he was hinting at some good news. Though it has only been a few months since their marriage, his fans soon started asking Virat whether Anushka was pregnant.
Check out the reactions here:
Typical Punjabi guess, good news on its way?

— Amit Arora (@amitar1) March 9, 2018
Take screenshot and save for 9 months ?

— Mukesh Dhariya (@MukeshDhariya2) March 13, 2018
Small virat coming soon....

— Anand Sisodiya (@Anandsisodiya77) March 12, 2018
कहीं छाेटे विराट की ताे तैयारियां नही चल रही ??

— महात्मा किंम जाेंग ? (@NuclrMissile4u) March 11, 2018
Got anushka pregnant so quickly ?
Scoring well off the field too ??

— Monish Reddy (@monishreddy9516) March 9, 2018
Bro getting eny promotion in your life, like become dad ????

— Prashantks (@Prashantks143) March 10, 2018
Is she pregnant?

— hemant Singh Garbyal (@GarbyalHemant) March 9, 2018
Virat and Anushka got married December 11 last year after four years of dating. Post marriage, the power couple moved into a new swanky apartment in Mumbai, which they had bought a few years ago.