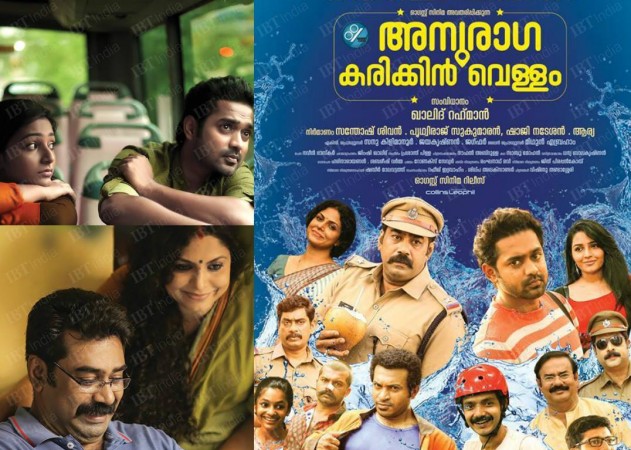 Among the Eid Malayalam releases, it is director Khalid Rahman's "Anuraga Karikkin Vellam" that has been garnering tremendous response from the audience who tag it as a realistic family entertainer relevant for the young generation.
The movie, starring Asif Ali, Biju Menon, Rajisha Vijayan and Asha Sharath, has been getting positive response from many celebrities as well. In a recent Facebook post, director B Unnikrishnan has lauded the makers of "Anuraga Karikkin Vellam" for making a realistic entertainer as well as the actors for their natural performance.
Read: Anuraga Karikkin Vellam IBTimes India Review
Apart from praising the debutant director, he has also lauded the scriptwriter Naveen Bhaskar, music composer Prasanth Pillai, cinematographer Jimsy Khalid, actors Biju, Asif, Soubin Shahir, Sreenath Bhasi, Asha and special metion to Rajisha, who played as Elizabeth aka Eli in it.
Other celebs including actors Sunny Wayn, Adhil Ibrahim, director Abrid Shine and subtitlist Vivek Ranjit have also given thumbs up for the film, in which Biju plays the role of a police officer and Asif is seen as his son.
"Anuraga Karikkin Vellam" is the production venture of August Cinema, co-owned by actors Prithviraj Sukumaran, Arya, director-cinematographer Santhosh Sivan and entrepreneur Shaji Nadesan. According to trade analysts, the Asif-Rajisha starrer has collected a gross amount of Rs. 20 lakh within four days of its release at the multiplexes in Kochi alone. Here's the box office collection report of Eid releases at Kochi multiplexes
Here's what celebrities have to say about "Anuraga Karikkin Vellam:"
Sunny Wayne
Watched Anuragakarikkinvellam! "sweeeeet movie like A Laddu " . Congrats Khalid rahman , dear friend Naveen Bhasker and to the whole team
Roopesh Peethambaran
Fell in love with this movie!!Khalid Rahman, Jimshi Khalid and Naveen Bhaskar - Respect :) Huge round of applause for Rajisha Vijayan for her astonishing performance as Eli ! Ee Kutty vere level aanu :)
Abrid Shine
Watching anuraga karikkin vellam..fantastic so far..loved it..congrats all..Naveen bro polichu....enthu rassayittundu ee padam..polichu..ummmmmmmmmmmmma for the entire team..Naveen muthe..director khald rahman..rerecording..cinematographer..august cinema..biju menon Asif Ali..ellarum..ellarum..loved the movie..
Adhil Ibrahim
Watched 'Anuraga Karikkin Vellam' last night with my friends...
My chunk bro, Asif Ali mon thakarthu..
Biju chettan polichu..
Asha chechi minnichu..
Soubinum, Sreenath machanum, Rajishayum pinne mattullavarum kalakki..
Khalid Rahman, Naveen Bhaskar and Jimshi Khalid - wow..Brilliant job brothers :)
Aake mottham total..ith super duper hit thanne..Plz go watch this film
Vivek Ranjit
Anuraga Karikkin Vellam is a fresh, beautiful family movie that will absolutely win your hearts. Relatable to each and every member of the family whatever age they maybe in, this one is a definite must watch. A sincere, heartfelt and lovable performance from Asif Ali, a fantastic Biju Menon in superb form, an elegant Asha Sharath and a great surprise package in the form of the heroine Rajisha Vijayan. And of course, the ever bankable Sudheer Karamana, Maniyan Pillai Raju, Sreenath Bhasi and the dude Soubin Shahir who totally owns every scene he is in. Irshad is hilarious as the senior police officer. Written with a lot of heart by Naveen Bhaskar and skilfully executed by Khalid Rahman with lovely music by Prashant Pillai and fab cinematography by Jimshi Khalid; take your entire family along for this completely fresh and lovable experience. Kudos to Prithviraj & August Cinemas for backing this project. I'm taking my family soon. Love & hugs to the entire team!!