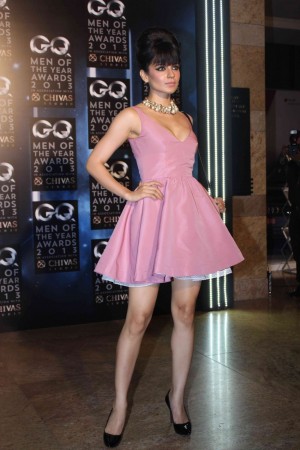 To have a mind like her's, is a blessing. Kangana Ranaut, who's riding high on the success of "Queen," was the latest guest on "The Anumpam Kher Show."
It's one thing to achieve your goal, it's a whole new story to scale massive heights against disapproval and struggle; coming from a small town in Himachal Pradesh, Kangana quit her studies when she was 15. Much against her parents' will, she began weaving new dreams. Her new found love for acting brought her to New Delhi, where she got her first role. The role, though of a male character, strengthened her belief.
Kangana revealed on the show that her father had asked her to stop using her surname. He was worried that she would bring shame to their family. The actress also went on to explain how the acid attack on her sister affected her, according to an India Today report.
While "Gangster," her debut film, fell into her laps when Chitrangada Singh didn't respond to the offer made by the director of the film, Anurag Basu; Madhur Bhandarkar's "Fashion" was pivotal in shaping her career. Ranaut disclosed that the role required her to do a good amount of research, such as ramp walk and drug abuse behaviour patterns.
She openly talked about being criticized frequently for her poor English speaking skills. She also shared a few characteristic features of her dream man; a good intellect and spiritual is what she looks for in a companion. All men, take a note.
Unlike gossip-churning shows, "The Anupam Kher Show" is more serious and aims at bringing out the lesser-known side of the film stars. Akshay Kumar, Yuvraj Singh, Kapil Sharma and Sonam Kapoor will be seen having candid conversations with Anupam Kher.