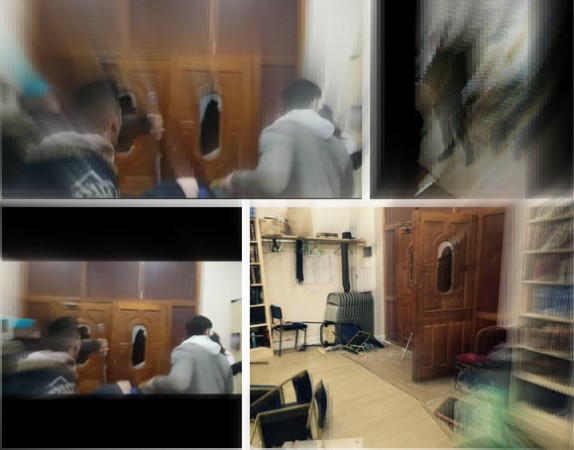 A group of about 20 youths attacked a local synagogue located in the London suburb of Stamford Hill on Saturday night.
The mob yelled threats, beat up Jewish worshippers and vandalised the synagogue belonging to the 'Ahavat Torah'.
An eyewitness, who was among the worshippers, told Jerusalem Post that a group of 20 young men and women shouting "we will kill you" entered the synagogue, assaulted the worshippers and tore apart the prayer books on Saturday.
A local Jewish resident, who reportedly tried to restrain one the vandals, was assaulted by the group and suffered injuries to his face.
The Stamford Hill Police said that it is treating the assault on the Jewish worshippers "gravely" and has already taken several suspects into custody.
The London Synagogue attack, which was filmed by a victim of the 'hate crime', shows the Jewish worshippers inside the prayer house screaming at a group through the broken doors.
The members of the congregation are seen holding chairs, mops and broken pieces of furniture to defend themselves, while the mob is heard yelling out threats.
Towards the end of the video, a man tries to shut the door and a heavy object is shown being thrown through one of the broken doors causing glass to fly towards the group inside.
Two girls in miniskirts are also seen in the video, but it is unclear whether they were trying to intervene or if they were part of the attack.
According to the Community Security Trust (CST), which records anti-Semitism and provides security for Britain's Jewish community, there has been a record number of anti-Semitic hate incidents reported in Britain last year. The attacks have been fuelled by the conflict in Israel and Gaza.
In 2014 there were 1,168 anti-Semitic incidents, compared to the 535 attacks recorded in 2013, and the highest annual total seen since CST began recording such incidents in 1984.