An anti-Islamic organization that plans to use Adolf Hitler as the face of an anti-Islamic ad campaign on Washington DC metro buses has stirred up controversy.
The controversial advertisement, which will be displayed in about 20 metro buses, shows Hitler meeting with anti-Jewish Islamic leader Haj Amin al-Husseini during World War II.
The campaign also has a controversial caption that reads: "Islamic Jew-hatred: It's in the Quran. Two-thirds of all US aid goes to Islamic countries. Stop Racism. End all aid to Islamic countries."
The controversial ad campaign calls for an end to US foreign aid to Islamic countries. Pamela Geller, a blogger and head of American Freedom Defense Initiative(AFDI) - an organization devoted to fighting "global jihad and Islamic supremacism", says the ad campaign is a reply to the relentless racism and Jew-hatred exhibited by the Muslim world and the American Muslim community.
"My intent is leapfrog over a media that is not even-handed, that is advancing the propaganda against the Jewish state," Pamela stated.
The ad campaign came out in response to a campaign by the American Muslims for Palestine (AMP), which just unleashed its latest Jew-hating ad on Washington DC metro buses.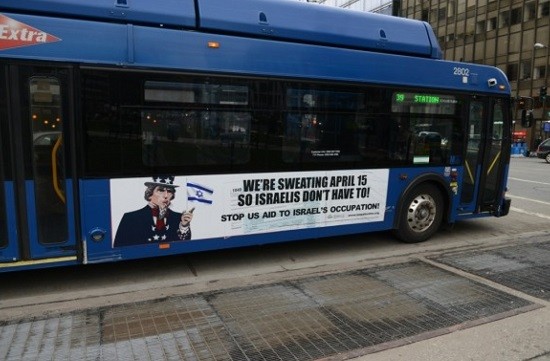 The AFDI ad has submitted its campaign to DC metro, and it is expected to come out this week.
The Council on American Islamic Relations (CAIR) which dabbled in very similar anti-Jewish ads two years ago has been the first one to oppose the new ad campaign.
"This is a propaganda campaign designed to incite hatred against American Muslims, and this campaign has been based on false information, taking things out of context from the Quran," Nihad Awad, National Executive Director of CAIR reported WLJA.