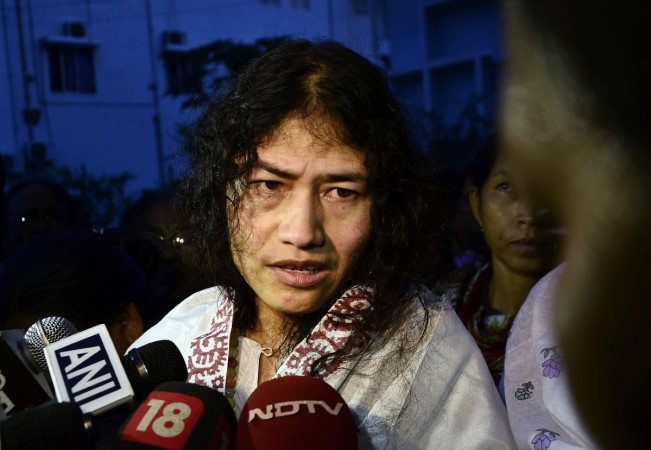 The Iron lady of Manipur, Irom Sharmila, the human right activist who has been fasting for 16 years in protest against army atrocities announced today that she will be calling off her fast on August 9.
Indicating a new chapter in the crusader's life, she said that she also plans to contest the forthcoming elections to be held in 2017 in order to continue her struggle for her cause. Reports suggest that she may run independently.
Sharmila began her fast on November 4 2000 to pressurize the government to repeal the Armed Forces Special Powers Act (AFSPA) that enables armed forces to make arrests without warrants on "reasonable suspicion" and grants them immunity from punishment if they shoot civilians dead for "the maintenance of public order."
Sharmila's motivation was embedded in the infamous Malom massacre in which 10 people including two children were killed in a fake encounter.
Through her constant devoted struggle she has been arrested, tried, released and re-arrested several times on charges of attempted suicide. Most recently she was re-arrested on March 2, merely two days after she was released when a court found her not guilty of the charge of attempt to commit suicide. On many occasions, she has been force-fed through a nasal tube as her health had deteriorated severely during her detention period.
Sharmila's decision to end her fast comes after the Supreme court on July 9 rejected the government's arguments and set a judicial precedent issuing a verdict that ends immunity for armed forces in disturbed areas.
The 85-page judgment issued by Justice Madan B. Lokur and Justice U.U. Lalit came in response to a plea by hundreds of families in the north-eastern State of Manipur for a probe by a Special Investigation Team into 1,528 cases of alleged fake encounters involving the army and the police.
After trashing the government's argument that lack of immunity from prosecution would have a demoralising impact on the security forces, SC decided that enquiries into encounter deaths considered to be "indefensible, mala fide and vindictive" nature, should be done by the Criminal Investigation Department at the instance of the National Human Rights Commission (NHRC).
However this judgement does not mean Sharmila has achieved victory.
It is ironic that the day the positive judgment on AFSPA was released, unrest emerged in Kashmir that has so far seen 50 deaths. Four days ago, a Border Security Force (BSF) personnel allegedly shot dead a 25-year-old woman at a border location in Tripura after she resisted rape.