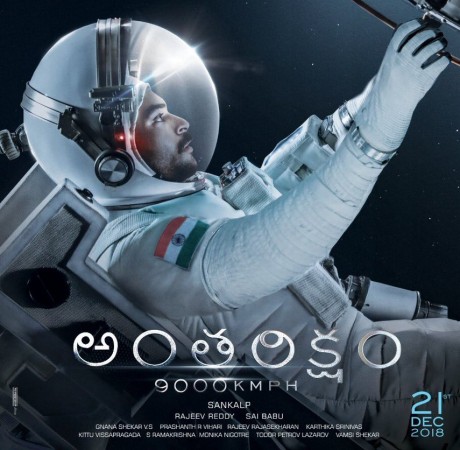 The space thriller movie titled Anthariksham starring Varun Tej, Aditi Rao Hydari, and Lavanya Tripathi has hit the screens today. The movie is directed by 'Ghazi' fame Sankalp Reddy and had generated decent hype pre-release. Read on for Anthariksham 9000 KMPH review.
Story Line Of Anthariksham:
The whole story of Anthariksham revolves around the Indian space research - its achievements and failures in creating an impact in global Space research.
Dev is a trained space engineer working for Indian Space Center and fails to launch his first satellite. He goes into exile and starts teaching. Riya(Aditi Rao Hydari), Mohan(Srinivas Avasarala), and the other space engineers plan to bring Dev back to the space research to accomplish another mission.
When asked to train the astronauts in coding, Dev doesn't do the task and insists his seniors send him to space instead.
How Dev finishes the mission and rectifies his past mistake is the rest of the story.
Roles and Performances:
Varun Tej, who has gained a good following with his content-driven movies, has proved his caliber as Dev. He is seen in the emotional role of a space engineer. He has done a good job as an astronaut.
Aditi Rao Hydari is apt for the role of an extremely talented astronaut. She displayed commendable subtlety in her role and had ample screen presence. Her expressions and situational acting are to be appreciated.
Rahman who plays the senior director of Indian Space Center has justified his role well. Avasarala Srinivas, Raja Chembolu, Kunal Kaushik, Satyadev, and others are seen in good roles and justified their presence in the movie well.
Analysis:
The movie Anthariksham has got a good story-line. Though the story has a strong crux, the first half of the movie does not impress. The flashback episodes are not very interestingly made, but the dialogues were very well written.
From a director like Sankalp Reddy who has created one of the most gripping movies - Ghazi, Anthariksham falls dull. Though the second half of the movie runs ahead with a decent pace, the screenplay is still flat in parts.
The pre-climax episodes are well-carpentered with a decent amount of emotion and gripping screenplay.
Technical Analysis:
The music for the movie Anthariksham went hand-in-hand with the narration. The BGM, while the story travels in space, is complementing the emotion.
The graphics are not on par with the content of this movie. The space and its view in the movie are not properly portrayed. In comparison, the visuals underneath water during the Ghazi mission was more spectacular. But, in Anthariksham, the space view and related graphical representation are not very impressive.
Production values are good. Dialogues by Kittu Vissapragada need a mention. There are some one-liners by the young writer which are thought-provoking.
Final Verdict: A one-time watch is suggested for this space thriller with a decent star cast.