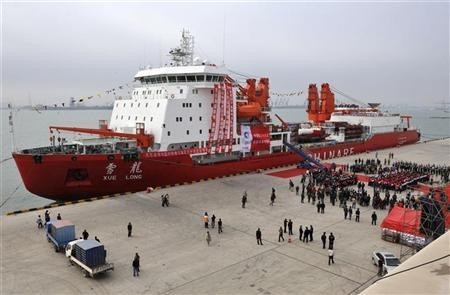 A Chinese boat with icebreaking capability is expected to reach the dense ice-packed region off East Antarctica, where a Russian scientific mission ship has been trapped since Christmas Eve.
Chinese icebreaker vessel, named Xue Long (Snow Dragon), has set off to try and help free the stranded Russian passenger ship MV Akademik Shokalskiy, which was trapped in ice about 100 nautical miles east of French base Demont D'Urville.
The Australian Maritime Safety Authority, which is overlooking the rescue efforts of the stranded ship with 74 people on board, said that the boat had experienced strong blizzards that limited its visibility and is now locked in frozen water for about three days.
It is not clear if the Snow Dragon will immediately be able to cut through the jammed ice that has kept the research ship stationed in the hard frost. The icebreaker is likely to ask further assistance from two other boats - French vessel L'Astrolabe and Australia's Aurora Australis - which have also diverted towards the icy waters in the Southern Ocean.
Chris Fogwill, one of the scientists on board on Shokalskiy, said that though the track they perused was aimed at reaching an area that was usually open waters, the unexpected blizzard forced them into heavy ice, leaving the vessel paralyzed.
"We've had a blizzard rolling most of yesterday," Fogwill told the ABC on Friday. "It's beginning to ease which is good and we think, you know, that the wind is getting lighter and lighter. So actually we are in fairly good shape for people coming in... later today."
The science team, led by Chris Turney and Fogwill, has said that the Shokalskiy is well stocked with food and water, and the people are in no apparent danger. The scientists stationed on the ship have been researching on the temperature and salinity through cracks in the ice surrounding their expedition track.
The ship, which is now in the Australian Search and Rescue region, is carrying tourists and scientists, while the ship itself was following the track that was explored by Australia's Sir Douglas Mawson a century ago.
They are tasked with the same scientific expedition experiment carried out by Mawson's team during the 1911 to 1914 research expedition.