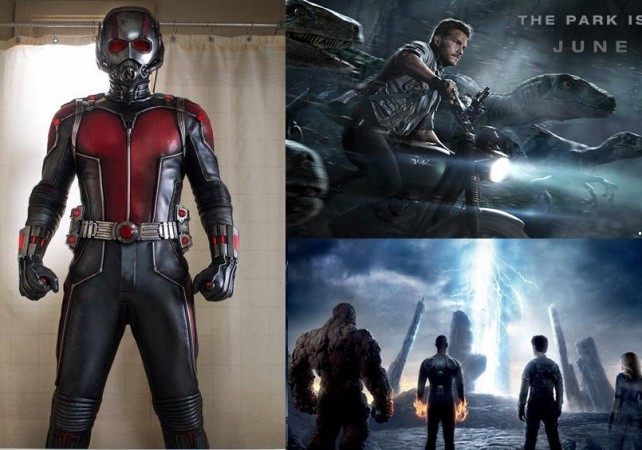 From the trailer release of "Star Wars" to "Fantastic Four", the last couple weeks have been nothing short of heavenly for sci-fi and superhero movie fans. All the movies whose trailers were released recently have huge legacies to live up to, and based on the trailers, most fans believe that the movies will live up to their brand's popularity.
The official trailer of "Ant-Man" was released on 13 April, and it shows Paul Rudd as former con-man Scott Lang, who becomes a bug-sized super soldier. Armed with a super-suit and new-found allegiance with ants, he plans a heist that will probably save the world.
The trailer of "Ant-Man" mostly got positive response from fans, with one of them, Brad Wright saying: "Ant-Man is going to be further proof that Marvel can take an obscure superhero and give him a badass movie. Paul Rudd is the perfect choice for this."
The second trailer of "Star Wars: The Force Awakens" was released at the Star Wars celebration in Anaheim on 16 April. With a fan base unmatched by any other franchise, Episode VII of "Star Wars" is expected to break all opening weekend box office collections on its release on 18 December, .
The trailer showed Harrison Ford's Han Solo with Chewbacca aboard the Millenium Falcon, sighing contently, "Chewie, we're home".
The epic moment was the highlight of the trailer for most fans. Like Vengeful Sage who said, "Tears in my eye sockets!! Chewie....we're home!!! YEEAHHHOMFG!!OMFG!!! I CANT WAIT TO SEE THIS MOVIE!I CANTF*CK*NGWAITTOSEETHISMOOVIE!! I CANT HOLD IT TOGETHER!! OMFG!!"
The "Batman V Superman: Dawn of Justice" trailer, released on 17 April, became the talk of the town after the new and improved "bat-suit" was revealed. Fans are calling it a combination of Bat-suit and Robocop costume.
The voice over by Jessie Eisenberg as Lex Luther also proved to be very venomous, and hopefully it will resonate in movie screens on 25 March, 2016.
On 19 March, Friday, came the most underwhelming trailer of them all, according to fans: "Fantastic Four". Fans of the classic superhero team are mostly unhappy with the casting of youngsters.
Many felt that the reboot of the franchise, so soon after the last "Fantastic Four" which starred Jessica Alba and current "Captain America" Chris Evans, was unnecessary. Fans are also unhappy with Dr Doom in the trailer, and some, like HollowGaming commented: "Dr. doom the ruler of latveria, and one of the most feared villains from earth... is now an alien?................... no.... just no..."
The official global trailer of "Jurassic World" was released on 20 April and fans are ecstatic with the work so far. Moreover, Chris Pratt, who seems to be maintaining his streak for the "Midas touch" is the central hero.
The park, which opens on 12 June is set to bring in millions of visitors from across the globe. However, Devin Carroll fears: "...I just really hope they didn't show the best parts in this trailer. Either way im seeing this. I've loved Jurassic park since I was a kid. Im so amped to c that giant sea dinosaur. I forgot the name but its so f*ck*ng scary. XD"
Which movie trailer impressed you the most?