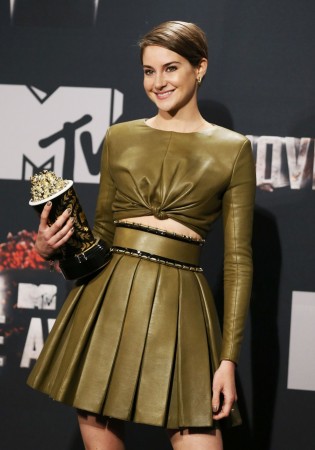 The sizzling on-screen chemistry between "The Fault in Our Stars" actors Shailene Woodley and Ansel Elgort have sparked rumors that they are an item off-screen as well. But both Woodley and Elgort dismissed dating rumors stating that their chemistry is the result of their friendship.
"This relationship between Gus and Hazel, it's so important that it's authentic and real and they do feel like they are real friends and they have that chemistry," Elgort told Yahoo! Movies.
"You should root for them to be together and have this love, and if, in real life these two people don't have any connection, it's just two actors going through the motions and being very boring."
"The Fault in Our Stars" is the movie of two teenagers with cancer who find love during the final days of their lives. The movie, which released early this month, garnered rave reviews from both critics and fans, who attributed the success of the movie to the Elgort-Woodley chemistry.
Elgort and Woodley met on the sets of "Divergent," where they play a brother-sister duo. During the course of filming for the science fiction movie, their friendship blossomed, helping them to be comfortable with each other by the time they started shooting "The Fault in our Stars."
"So I think because we met in Chicago and did Divergent, Shailene and I became close, became friends and got to know each other. When we did this movie, we were already really close friends and we were able to play off each other and feel comfortable," he said.
"We have little inside jokes that we could have inside our eyes during the scene, and that helps to make it real and authentic."
Woodley, on her part, told The Daily Beast in an interview that in real life too she looks up to him so much love and adoration, and this helped them to prepare for their roles in "The Fault in our Stars."
"We instantly connected, and before Fault even came around for him, we struck up a really close friendship and instantaneously became very brother-sister," Woodley told The Daily Beast.
The two are now gearing up to reprise the characters of Tris and Caleb in the next instalment in the "Divergent" series entitled "Insurgent." The movie is slated for a 2015 release.
On the romance front, Elgort is believed to be dating dancer Violetta Komyshan, whom he met at LaGuardia High School, and Woodley grabbed headlines early this year for her rumored romance with "Divergent" co-star Theo James.
However, none of them has confirmed these dating rumors.