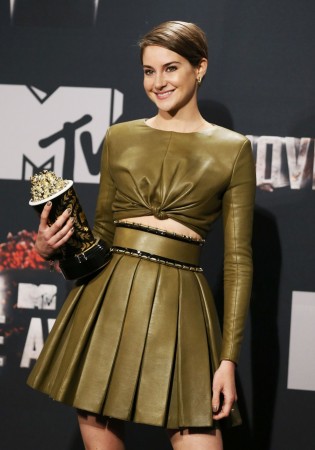 "The Fault In Our Stars" actors Ansel Elgort and Shailene Woodley, who amazed fans with their sizzling chemistry in the movie about two teenagers with cancer, have sparked rumors of being an item.
The two have not been able to gush about each other during interviews, and this has only further fuelled dating rumors.
In the movie, Woodley plays the role of Hazel Grace, and Augustus Waters is portrayed by Elgort. They meet at a cancer support group and instantly fall in love.
"Shailene and I share a certain love," he said during an interview with The Guardian, but quickly added," it's a friendship love."
Elgort believes a certain kind of friendship love is what their onscreen characters, too, share.
"I think it's more than a love story, it's like the opposite of Romeo and Juliet – it's not lust; it's real love. And, y'know, they have sex just because they're in Amsterdam and are probably never going to have sex otherwise – so let's do it, I guess. But really, they're there just because they love each other. That's why it's refreshing because it's not, like, cheesy luurve."
In a separate interview with The Daily Beast, Woodley, too, had nothing but loving words for her co-star. The two were first featured together in "Divergent," where they played a brother-sister duo.
"Ansel came in with these fresh eyes and this beautiful innocence and excitement for what it meant to be making a movie. We instantly connected, and before Fault even came around for him, we struck up a really close friendship and instantaneously became very brother-sister," she said.
"We have such deep reverence and pride for one another. We're completely different in almost every way, but are very intrigued by each other's differences, so when Fault came around, there was a fault in Hazel and Augustus's stars, but there wasn't a fault in our stars because we had that deep respect for one another."
Woodley added that in real life she has so much love for Elgort that it was effortless to transcend the chemistry onscreen.
The two will once again share screen space, albeit as brother and sister, when the sequel of "Divergent" titled "Insurgent" hits screens next year.
The movie is set for a March 20, 2015 release, reports said.