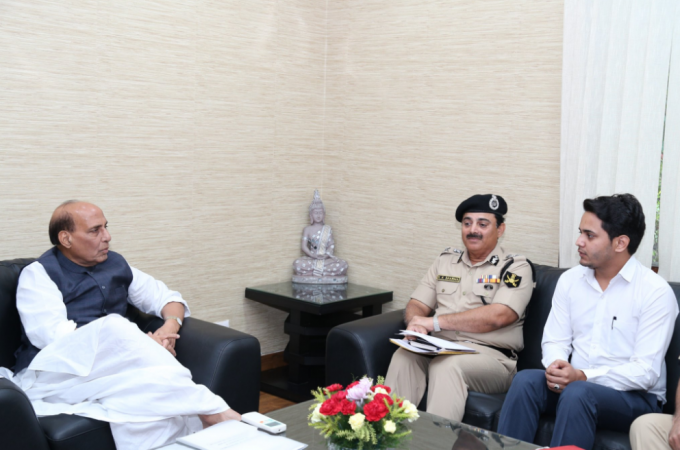 Amid months of unrest in Jammu and Kashmir over the death of Hizbul Mujahideen militant Burhan Wani, another young man with the same last name, Wani, has emerged from the Valley.
Nabeel Ahmad Wani, a 26-year-old engineer from Udhampur, made headlines after topping a Border Security Force recruitment exam. The contractual junior engineer in Udhampur will be joining the force as an assistant commandant.
"The more we get education, the better and more jobs we will get. We cannot get education by taking to stones but by holding a pen," Wani said.
Union Home Minister met Nabeel Wani on Sunday along with Director General of BSF K K Sharma. He also met NSA Ajit Doval, home secretary Rajiv Mehrishi, the IB and RAW chiefs, and other senior officials in Delhi.
"Happy to meet Nabeel Ahmad Wani, a young man from Udhampur in J&K, who topped the BSF entrance exams this year. The success story of Nabeel Wani shows that J&K youth have a lot of potential. His success will inspire many young boys & girls in J&K," Singh tweeted.
Son of a teacher, Wani had won a government minority scholarship for higher education. While studying he would earn money through teaching to help his sister studying engineering in Chandigarh. He finished his BTech in 2012.
I am very happy. My son's dream has been fulfilled. I know he will work with honesty and dedication and will bring laurels to the country," Hanifa Begum, Wani's mother, told TOI. "Every boy and girl (in the Valley) should follow their dreams and they will achieve them one day. They should work hard and make India proud," she said.
The first time that Wani had attempted the exam in 2013, he could not qualify it. However, this year he came in first.
"I will urge you to take the right path; do something for your country and your motherland so that your country and motherland are recognised all over world. You all should follow your dreams and fulfil the aim of your life, but don't take any wrong path for that. Taking a wrong path is easier, but it's difficult to follow a right path. But, at the end, only those people are successful who take the right path," Wani said.