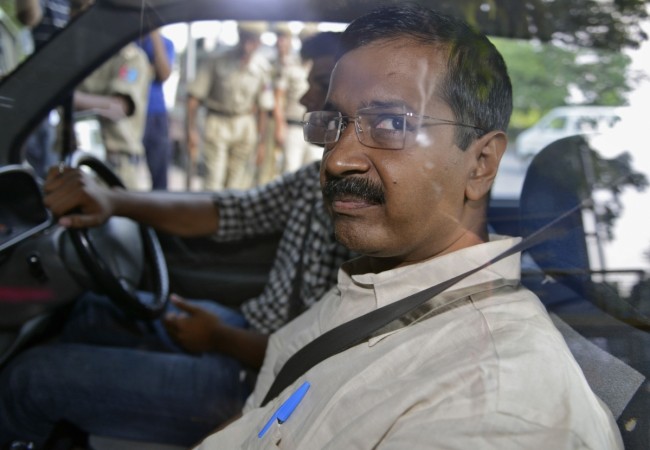 Arvind Kejriwal, the chief of the Aam Aadmi Party (AAP) who has been spending his days in Delhi's Tihar jail since Wednesday, has finally agreed that he would furnish personal bond needed for bail.
AAP chief was charged with defamation case by Nitin Gadkare after he released the names of 'India's most corrupt' in February. Gadkare's name was also included in the list.
Tuesday's decision was conveyed to a court in Delhi by Kejriwal's lawyer Prashant Bhushan, who is also a leader of AAP.
This comes after the court earlier condemned Kejriwal once again alleging that the AAP leader had made furnishing the bond a "prestige issue."
"It is a small case. Why are you making it big? Why are you taking this as a prestige issue?" it asked, reports NDTV.
Faced with the recent defeat in the Lok Sabha elections, Kejriwal tried to explain his desire last week to contest in Delhi again – the post he allegedly left in aspiration of the PM's chair.
The stubborn Kejriwal refused to pay a cash bond needed for getting bail on Nitin Gadkare's defamation charge – landing himself in jail.
On Monday, he moved the Delhi High Court for his immediate release. The court also appeared to rebuke Bhushan and his father, former law minister Shanti Bhushan on Tuesday, who were representing Kejriwal, according to reports.
"Mr Kejriwal should be given proper counseling by you," the court said, addressing the two men.
Prashant Bhushan went to Tihar jail, apparently to convince him that he must come out of jail and fight his case, as the court had advised.
The AAP chief was initially sent to jail for two days before the court ordered 14 more days in custody when Kejriwal remained adamant on not furnishing the cash bond needed for bail, that reportedly amounted to ₹ 10,000.
"I took on former BJP President Nitin Gadkari and exposed him, but he is roaming scot-free and I have been put in jail. They asked me to take bail, but what crime have I committed to take bail?" Kejriwal said on Saturday in an open letter that was signed as 'Prisoner No.3642, Jail No.4, Tihar'.
Immediately after Arvind Kejriwal agreed to furnish the cash bond on Tuesday, the word 'U-turn' began trending in twitter, where people criticized Kejriwal for changing his mind frequently.
Here are some of the most interesting comments:
HC granted one exemption to Kejriwal.. permission to take U-turn in front of Tihar Jail !

— Media_Rant (@Itharaju) May 27, 2014
If its true that prisoner no3642 signed bail bond of rs.10000 then its a historical U turn of bhagora AK 49 — Navin prakash (@Raja185in) May 27, 2014
I wll file bail bond, I won't file bail bond, will file bail bond, wont file bail bond, will file bond. Story of U-turn guy. #KejriSaga

— MKAryaNaMo (@talmukund) May 27, 2014
The alphabet 'U' was demanding to become more curvy to get itself worth of describing Kejriwal in a better way! #Uturn #Kejriwal #Modi — Manuraj Singh (@manurajsingh) May 27, 2014
Why didn't kejriwal take a U-Turn and gone back in womb just after he born!!!

— Abhishek Sharma (@Abhi_BJP) May 27, 2014
U turn baba shri shri 1008 shri Arvind kejriwal maharaj ki jai.... — HARISH SHARMA (@rishiharish2005) May 27, 2014