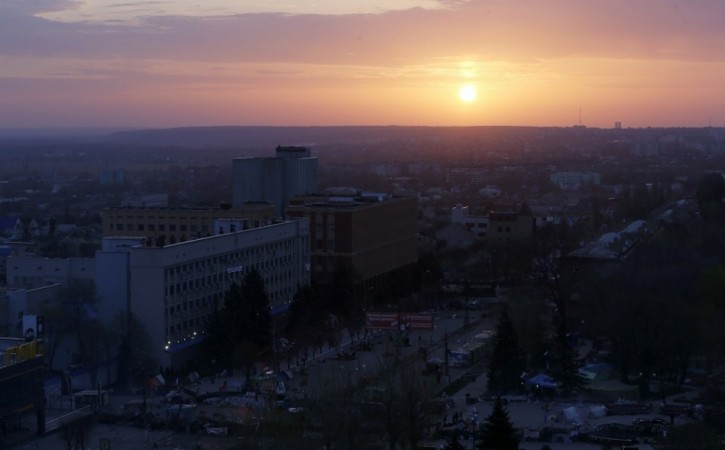 The first solar eclipse of 2014, where the moon passes between Earth and the sun, will occur on Tuesday (29 April). (Watch solar eclipse live in the video given below)
When the sun and the moon align perfectly, total solar eclipse occurs. But on Tuesday, skywatchers will witness an annular solar eclipse, which is also known as the "ring of fire." The annular solar eclipse occurs when the moon is far away from the Earth and it appears smaller in the sky. The moon will not be able to cover the sun completely and its outer edges will be still visible.
When the annular solar eclipse is viewed from the Earth's surface, skygazers can witness a "ring of fire" around the moon.
This rare event will be visible from one uninhabited spot in Antarctica, where only the penguins might be able to see it, reported Space.com. Hence, the event is also nicknamed as "Penguin" annular solar eclipse. However, partial views of the rare event can be seen across Australia.
The solar eclipse will begin at 1:15 p.m. local time in Perth, Australia (29 April) and end at 3:59 p.m. local time. The best time to view the rare event is at 2:41 p.m., when the moon will cover 65 percent of the sun's disk. Viewers from Melbourne can start seeing the annular solar eclipse at 3:58 p.m. local time and Sydney viewers can see it from 4.13 p.m, according to Space.com website.
Where to Watch Live Online
Tuesday's annular solar eclipse can be viewed online here courtesy of the Slooh community telescope.
The coverage will begin at 2 a.m. EDT/06:00 UTC. Viewers from India can see it from 11.30 a.m. till 1 p.m. on Tuesday. To know the international timings of the event, click HERE.
The live streaming event will be accompanied by discussions by Slooh host Geoff Fox and Observatory Director Paul Cox. The show will also feature guest expert Dr. Lucie Green, a BBC contributor and solar researcher at the Mullard Space Science Laboratory, UCL's Department of Space and Climate Physics. Using hashtag #Slooh, viewers can also ask questions to the experts during the show.
[ED:VS]