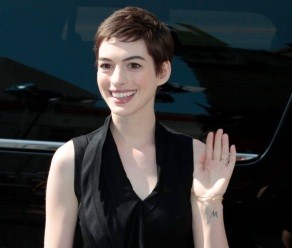 Hollywood actress Anne Hathaway tied the knot with her long time boyfriend and jewellery designer Adam Shulman on Saturday night at a private estate in Big Sur, California.
The wedding, which took place under tight security, was attended by about 180 guests, lifestyle and entertainment website Zimbio reported.
Apparently, the guests were not told about the wedding venue and only those who wore a specially designed bracelet were allowed to attend the event.
The "Dark Knight Rises" star reportedly wore a gown designed by her friend Valentino, while the groom wore a traditional tuxedo. The wedding décor was said to be inspired by nature, People magazine reported.
"The wedding décor was inspired by nature, with many branches used to create a ceremony and reception to blend in with the majestic Big Sur surroundings," the magazine quoted a source as saying.
The couple began dating in 2008 soon after she ended her relationship with the Italian real estate developer Raffaello Follieri, who was found guilty for fraud. He was sentenced to four years in prison.
Hathaway and Shulman had announced their engagement in November last year.
"I am very much in love with him, only Adam totally ruined my plan. I was really actually looking forward to a little alone time, and then I fell in love like a fool," the actress told the magazine then.
The actress, who rose to fame with film "The Princess Diaries" in 2001, was earlier in the news after she was rumoured to be pregnant. In July, she was spotted with what seemed to be a baby bump. A source close to Hathaway dismissed the rumour, telling Gossip Cop, an entertainment website, that "she is not pregnant".