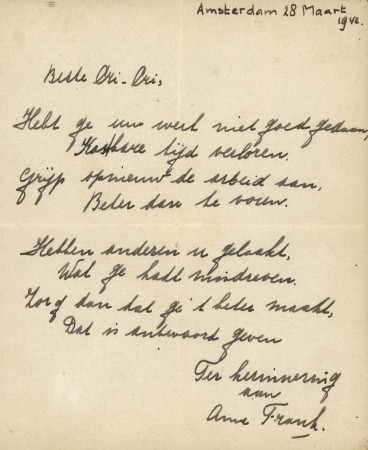 Eight lines of poetry written by Anne Frank has recently fetched $148,000 at an auction held in the Dutch city of Haarlem recently. The poems had been given for safekeeping to a friend of Frank's, Christiane van Maarsen.
Van Maarsen, who died in 2006, had the eight lines a "poezie album," or friendship book. The lines, it is believed comes from a Dutch poem with closing lines by Frank herself. The lines were written by Frank for van Maarsen, whom she considered was somewhat idle. Before dying, van Maarsen gave the page to her sister Jacqueline, who was Frank's best friend.
The closing lines read:
If others have reproached you

For what you have done wrong

Then be sure to amend your mistake

That is the best answer one can make.
The poem was autographed by Frank and dates to March 28, 1942, months before her family went into hiding from the Nazi Army. The poem is addressed to "Dear Cri-cri".
Frank, after she went into hiding, penned down her diary, which is still revered in popular culture and is a sign of hope during bleak times. The diary was published in 1947 after she died.
"My sister didn't really like the poem very much because Anne was very critical of her, because she left school early, whereas Anne was busy all the time," Jacqueline van Maarsen, 87, told The New York Times. "She gave it to me because she knew I was collecting Anne's things. I would never sell the verse that Anne addressed to me. But as my sister was not attached to hers, I decided to sell it."
The co-director of the auction house, Bubb Kuyper, said that the amount the note fetched was five times more than the minimum price, which was set at $32,000. The bidder wants to stay anonymous, he said.
The co-director also said that autographed items by Frank were rare and only four or five have been found in the past four decades.