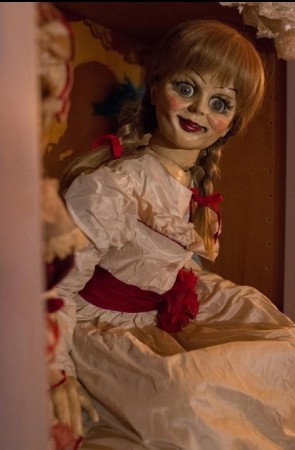 With Halloween approaching, the breeze is getting cold and chilly to add up extra spice to the celebration on 31 October all over the world.
One of the best ways to create the spooky environment will be by watching few mysterious Halloween-themed movies. From "Annabelle" to "House of 1000 Corpses", there are many films that will give you goosebumps this Halloween month.
Here is the list of few Halloween-themed horror movies of all time:
"Annabelle"
The supernatural horror film "Annabelle" released this month is a must-watch film. The film is the sequel of last year's horror movie "The Conjuring". Apparently, it has nothing to do with the Halloween theme, but is a perfect choice for the spooky festival.
"The Houses October Built"
Another horror movie, "The Houses October Built", released this month will give you an authentic fright for Halloween. In the film, five friends set off on a road trip to track down underground haunts.
"All Hallow's Eve"
The spooky film "All Hallow's Eve" released last year revolved around a babysitter. While watching two kids on Halloween night, a babysitter finds a tape that features three tales of terror, linked by a murderous clown.
"Satan's Little Helper"
The 2004 movie "Satan's Little Helper" revolves around a kid who unknowingly helps a serial killer dressed as Satan. It is a funny and a perfect Halloween based film.
"House of 1000 Corpses"
The classic 2003 movie "House of 1000 Corpses" received mixed reviews, still it can be added in your bucket list of Halloween based films.
"Trick 'r Treat"
"Trick 'r Treat", released in 2007, is a must-watch movie this Halloween. The story revolves around four different spooky tales that occur on Halloween.
"Night of the Demons"
"Night of the Demons" is a 1988 horror movie in which a group of teens wakes up a demon while celebrating Halloween in their ghostly way.
"Halloween"
The 1978 movie "Halloween" revolves around a psychotic murderer.