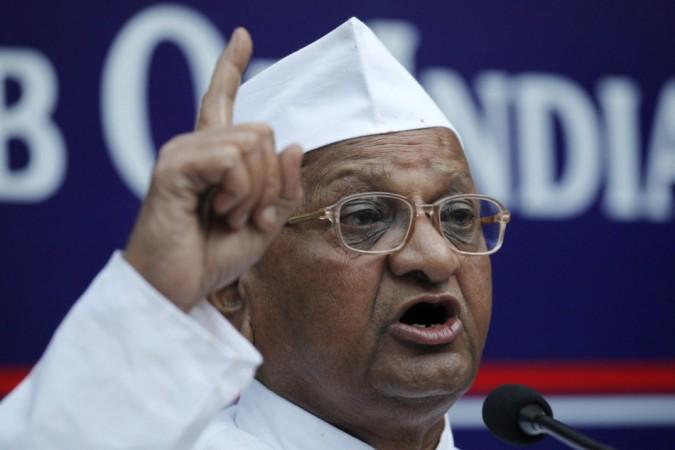 Anna Hazare's statement on corrupt political leaders in India has invited predictable criticism from the major political parties; his statements, made on Tuesday, have been branded as "instigating violence". The anti-corruption crusader's statements, essentially, said an individual had no option but to slap corrupt officials, when he/she finally runs out of patience.
In response, Shahnawaz Hussain, the Bharatiya Janata Party's spokesperson, told CNN-IBN there was "no need to use five fingers. Use just one finger and press a button to slap corruption. In democracy vote is the most powerful tool to fight corruption". Other leading political parties, like the Congress and the Samajwadi Party (SP) also came out with strong comments.
Digvijay Singh, the Congress General Secretary, criticized the 74-year-old activist's quotes, saying he had lost some of respect for him and further slammed Hazare's actions, suggesting he was being influenced by the Sangh Parivar.
"After this statement, my respect towards him has lessened. I always took him as a Gandhiwadi, but the way he is talking about violent behavior; my respect towards him has lessened. I think it is a result of keeping the company of the Sangh," a source quoted the Congress official as saying.
Meanwhile, SP leader Azam Khan criticized Hazare's activist group - Team Anna - suggesting the immediate reference may have been to an incident where Sharad Pawar, the Nationalist Congress party leader, was slapped in public. At that time, Hazare had indirectly approved of the incident. Khan further suggested that Team Anna's next remarks could be about bullets and more violence.
Hazare made the controversial comment after watching a special screening of a forthcoming Bollywood film "Gali Gali Chor Hai", based on the idea of anti-corruption and directed by Rumi Jaffrey, at his native village of Ralegan Siddhi.