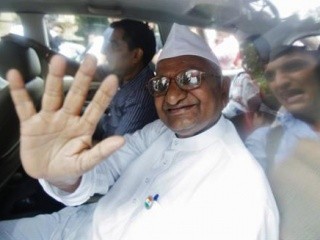 After the all-party meeting called by Prime Minister Manmohan Singh on the Lokpal Bill failed to yield any positive result on Saturday, anti-corruption campaigner Anna Hazare has announced that he and his supporters would sit on "dharna" at Jantar Mantar, New Delhi, on March 25.
The activist also said at a press conference that he would launch another agitation in 2014 if the government doesn't create a strong Lokpal. He added that whistleblowers, who expose corruption cases, should be given protection.
"Twenty-five people fighting against corruption have been killed. The government is insensitive on this. We will sit on dharna on March 25 at Jantar Mantar to seek protection of whistleblowers," he told reporters.
He warns more agitation if the government fails to pass a strong Lokpal.
"We will go to the people and could even protest at the Ramlila Maidan. The Assembly polls in five states are a clear indication about the people's feeling. We will continue our agitation for a strong Lokpal Bill. If required we will sit on fast again," he said.
"We are looking for an effective legislative model. We will keep the awareness alive and keep the pressure alive. It is a collective social demand. The Central Government should come up with the strong Lokpal Bill," said former IPS officer Kiran Bedi, who is a member of Team Anna.