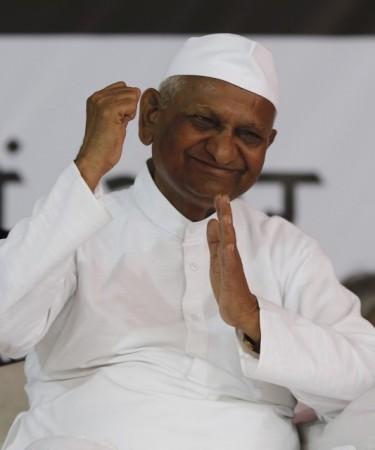 Anti-corruption crusader, Anna Hazare opposed India Against Corruption (IAC) activist, Arvind Kejriwal's method of exposing various scams asserting that the latter should have concentrated on one issue at a time instead of targeting one leader every week.
Anna Hazare and Arvind Kejriwal had worked together closely in the past, fighting for Jan Lokpal Bill until the latter expressed his political aspiration.
Hazare on Friday said that both of them are fighting for the same cause - fighting corruption - by using different methods. However, he is against Kejriwal's method of nailing one leader after another every week, saying that he should take on one issue at a time.
The reaction came after Kejriwal exposed a few scams, including that of Law Minister Salman Khurshid and Bharatiya Janata Party (BJP) President Nithin Gadkari, back to back.
The 75-year-old activist, who underwent a minor eye surgery last week, refused to comment on the recent exposure of his former team member saying that he is "not aware of what Arvind has put before the public", as he neither watch television nor read newspapers, reported Hindustan Times.
Interestingly, Anna Hazare said that Kejriwal supporters would not be allowed in his 50-member new core team which is is expected to be announced laster this month.
It may be recalled that Arvind Kejriwal was once a core member of Anna Hazare-led "Team Anna" that fought for Lokpal Bill but difference cropped up between them after he expressed his aspiration to float a political party under IAC, forcing the veteran social activist to start a new apolitical group.
Kejriwal has been speaking venoms of late, exposing scams involving big names in politics. He accused Minister Salman Khurshid of misappropriating funds meant for handicapped people, and then took on BJP President Nithin Gadkari, accusing him of illegally acquiring farmers' land and misusing irrigation water.