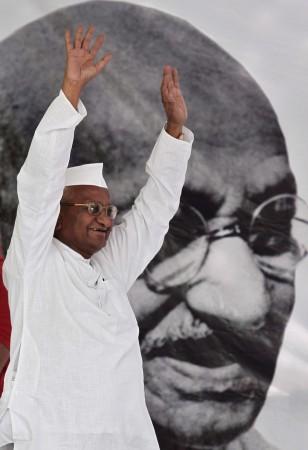 Anti-corruption crusader Anna Hazare on Sunday termed the government as "deaf and dumb."
Talking to reporters at the Jantar Mantar in New Delhi, where he was fasting for a strong law to protect whistleblowers, Anna said: "Their (whistleblowers') mothers, their children, their fathers, their wives are crying for justice. But this government has gone dumb and deaf. It is not listening to the cries of people."
"The government should be sensitive. A sensitive government is a true government. But it is now deaf and dumb. There will be a big movement in the coming days and the government would be bound to listen," he said.
He demanded justice for the family of IPS officer Narendra Kumar who was killed in Madhya Pradesh.
Jantar Mantar drew huge crowd on Sunday unlike at the time of Anna's fast there in December when the turnout was not so impressive.
"There will be a big struggle. Then the government will listen. The government came up with MNREGA but these people were killed for trying to improve it," said the 74-year-old activist.
He mentioned that about 25 whistleblowers were killed in the past years.
It's his first hunger strike after he called off is three-day-long fast for a strong Lokpal Bill in Mumbai in December 2011 owing to health reasons.
This is the fifth time he is sitting on a fast in the past one year of which four of them have been in Delhi.
Anna's associates like Santosh Hegde, Shanti Bhushan, Arvind Kejriwal, Kiran Bedi, Manish Sisodia were present at the venue.