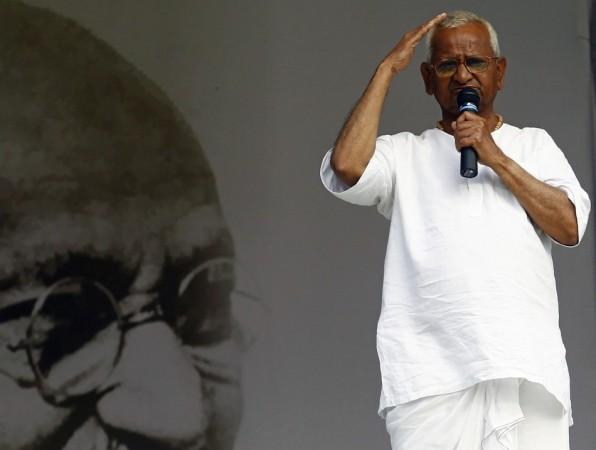 After a three-month gap, anti-corruption crusader Anna Hazare resumed his hunger strike in Jantar Mantar in New Delhi on Sunday.
Hazare began the daylong fast in the capital demanding a stronger provision under the Jan Lokpal Bill that ensures appropriate security for the whistleblowers' life against the backdrop of the murder of an honest IPS officer, Narendra Kumar, in Madhya Pradesh allegedly by mining mafia.
Hazare invited relatives of the victims of those who were killed for fighting corruption that included family of Narendra Kumar, said Team Anna sources.
The frail crusader was accompanied by the core members of the Team Anna like Shanti Bhushan, Arvind Kejriwal, Kiran Bedi, Santosh Hegde and others.
Before the start of the fast, Hazare said that a number of people had lost their lives in fight against corruption and the government had remained cold feet in delivering justice to the deceased. He alleged that the government had not conducted any probe despite some incidents which happened three years ago.
Since 2010, at least 15 whistleblowers have been killed when they tried to expose the scams, according to Team Anna.
Anna Hazare's fast three months ago failed to garner large number of support from the public and he was forced to call off the hunger strike owing to his health factor. The 74 years old Gandhian underwent a number of health check-ups to fix his ailing health condition.
Hazare has taken up this hunger strike for the inclusion of stronger provision in the controversial Lokpal Bill, which will be taken up to debate in the floor of the Parliament in the second phase of budget session.
Hazare's token fast has just piled up the pressure on the shoulders of the government over introduction of the Lokpal Bill that has been already staggering with other issues.