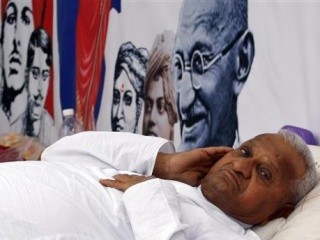 Anti-corruption crusader Anna Hazare has been admitted to the Sancheti Hospital in Pune, after complaining of congestion in his chest. He was hospitalized on Saturday night. The hospital, confirming his admittance, said it had sent for a blood test and an Electro Cardio Gram (ECG). The authorities also maintained there was no major medical concern; all Hazare needed was rest.
According to a source quoted by CNN-IBN Live, Dr. Parag Sancheti, the Chairman of the hospital, visited Hazare at his native village - Ralegan Siddhi - and requested the 74-year-old to consider medical treatment following a worsening chest infection that was first contracted on Dec. 27.
Hazare broke off his scheduled three-day fast (Dec. 27 to Dec. 29) in Mumbai because of his ill health. He had earlier also postponed a core committee meeting.
"There is congestion in his (Hazare's) chest and he has strong cough. He can't remain in a single position for a minute. Therefore I've suggested (he be admitted) in Pune," Sancheti was reported to have said. Hazare is expected to spend at least four days in the hospital and has been accompanied by his assistant and two others from Ralegan Siddhi.
The hospital has reportedly taken precautionary measures to ensure Hazare does not contract pneumonia.