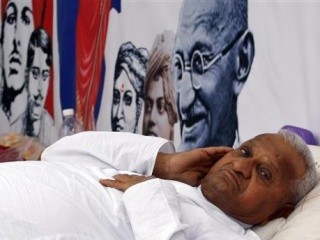 Anna Hazare was hospitalized on Wednesday morning after he complained of fatigue and uneasiness.
The 74-year-old social activist was rushed to Saibaba Heart Institute and Research Center for medical check-up, just before he was about to speak at a public meeting in Nandurbar district, Maharashtra.
The Gandhian had complained of weakness this morning and is currently been examined by the doctors.
"Hazare cancelled his Nandurbar district tour due to fatigue and weakness," said P B Karanjkar, the president of the Nashik unit of Bhratachar Virodhi Andolan.
Karanjkar however said that there was nothing serious and nothing to worry about the veteran social activist's health.
The anti-corruption crusader is currently on a month-long tour in Maharashtra since May 1 in his quest to demand for a strong Lokpal Bill.
Earlier this year, he was admitted to a hospital for a week. He cancelled his tour in five poll-bound states due to illness.
He also called off his three-day long hunger strike from Dec 27 against "weak" Lokpal Bill in Mumbai on the second day due to ill health.
(With Inputs From IBNS)