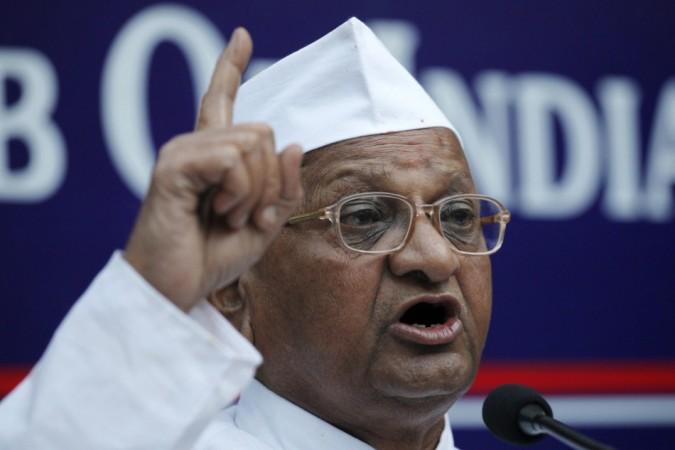 Anti-corruption crusader Anna Hazare started his day-long token fast, demanding a stronger Lokpal bill, at the Jantar Mantar, New Delhi, on Sunday at 10.15 a.m.
"My fast has begun. I will not speak much now," he told his supporters as he also chanted "Bharat Mata Ki Jai" and "Vande Mataram," as quoted by DNA.
Members of Team Anna and hundreds of Anna's supporters have reached the Jantar Mantar in support of his demand.
Prior to this, Anna visited Rajghat and meditated for a while at the Gandhi Memorial, before heading to the Jantar Mantar for the one-day fast.
A key associate of Anna's told the media that she was blessed to be a part of the anti-corruption crusade.
According to a report by Times of India, team Anna expects to draw up to 7,000 supporters for the test event that will indicate the public mood before his marathon fast at the Ramlila Maidan from Dec. 27.
Team Anna had sent out more than a lakh SMSs regarding the two agitations in the city. Its Facebook page, too, has reportedly received a lot of hits.
Team Anna has received permission to block a portion of the Jantar Mantar and put up a dais in the middle of the road.
Calling his Sunday's fast the second fight for independence, the 74-year-old activist said that the Congress-led government at the Centre was drunk with power and had forgotten the sacrifices by Indian freedom fighters like Bhagat Singh, Sukhdev and Rajguru.
Team Anna is demanding a strong Lokpal Bill that will include lower bureaucracy, higher judiciary, a provision for Citizen's Charter and setting up of Lokayuktas at the state level in its ambit.
With the support of India Against Corruption (IAC) group, this is Anna's third hunger strike regarding the weak Lokpal Bill and the second at the same venue, the Jantar Mantar.