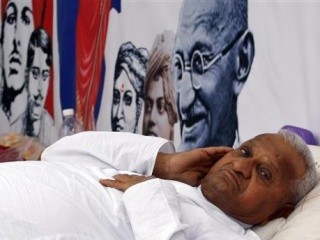 Anti-corruption activist Anna Hazare has arrived in New Delhi for a medical check-up at a multi-specialty hospital. According to media reports, the 74- year-old activist will undergo a detailed check-up at the Medanta Hospital in Gurgaon.
"Soon after I regain my health, I will embark on an all-India tour. Then the corrupt people will understand that the allegations they level against me will not have an effect on people," the Hindustan Times quoted Hazare as saying, before leaving his native village of Ralegan Siddhi for Delhi.
The activist has been suffering from ill health for some time now. Earlier, this month he was admitted to the Sancheti Hospital in Pune, after complaining of acute bronchitis.
It may also be recalled he called off a three-day hunger strike, in Mumbai last month, because of his health and had also canceled his participation in an awareness campaign in four poll-bound states, to help chose candidates who support the Jan Lokpal Bill.