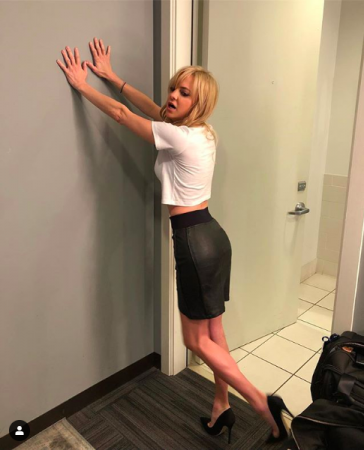 Chris Pratt's former wife Anna Faris has opened up about her sex life, bedroom habits and how she and Chris are making things work as co-parents.
The 42-year-old Anna Faris recently made several NSFW comments about her sex life. During her recent podcast, she replied to a caller, who asked for her take on threesomes. The 22 Jump Street movie actress did not have a clear answer to it, but at the same time, shared some of her bedroom habits and stated that she plays different characters during intimate scenarios with her partner.
"Sometimes I'll put on, like, my short black bob wig that I have and I play a different character because I'm an actress," Faris revealed. "I like to play different characters sometimes in a romantic situation. I like that it sort of satisfies my sensibilities of getting to be someone else and it is also, like, a turn on for a partner."
Anna further added that she likes to "play trash girls" because she is not a great lover adding, "I'm very lazy. Usually, I like to call myself a stripper named Tragedy. It turns me on."
Apart from this, she talked about having a healthy relationship with her ex-husband Chris Pratt.
Anna Faris met Chris Pratt in the early 2007s at the table read in Los Angeles for the film, Take Me Home Tonight. They both started to date shortly after featuring in the romantic movie and became engaged in late 2008.
The Guardians of the Galaxy movie series actor got married to Scary Movie actress on July 9, 2009, in Bali, Indonesia. However, after spending almost eight years together, the couple announced in 2017 that they are separating. Few months after that, they filed for a divorce, which got finalized a year later on October 16.
Following her divorce with Chris Pratt, Anna Faris is reportedly dating acclaimed cinematographer Michael Barrett.
During the podcast, Anna Faris talked about how she and Chris work really hard to make things perfect for their young son Jack.
"We have sort of the luxury of circumstance. You know, we are both in other loving relationships. ... But It's like, how do you not in general sink into a place of bitterness?" Anna added.