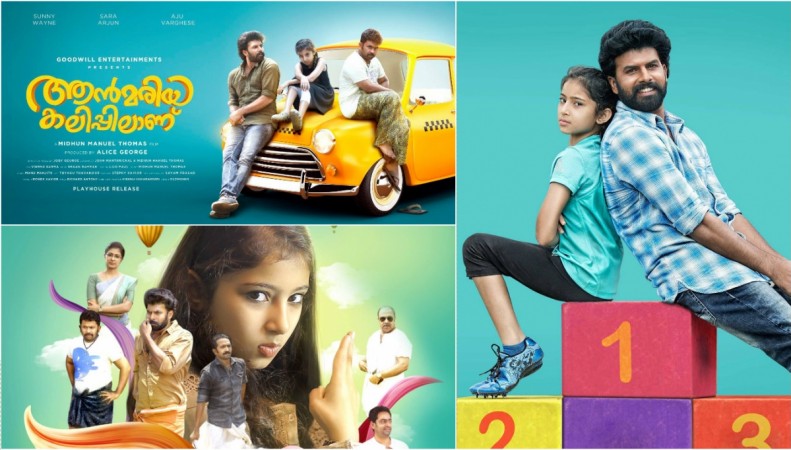 Baby Sara Arjun and Sunny Wayn's latest Malayalam movie, "Ann Maria Kalippilaanu" (also spelled "Ann Maria Kalippilanu") hit the screens in Kerala on Friday, August 5. Director Midhun Manuel Thomas, who is known for his debut movie "Aadu Oru Bheekara Jeeviyanu," has claimed that his second film is totally different from the Jayasurya-starrer that was released in 2015.
Check Vismayam Review | Guppy movie review
Sara, of "Deiva Thirumagal" fame, makes her debut in Malayalam with the movie. She plays the title role in the film, which narrates certain incidents that happen in the life of Ann Maria. The family entertainer also stars John Kaippallil, Aju Varghese, Saiju Kurup, Leona Lishoy, Siddique and Dharmajan Bolgatty in key roles.
Interestingly, Dulquer Salmaan also makes a cameo appearance in the movie, which has been produced by Alice George under the banner of Goodwill Entertainments. "All the best for team ‪#‎Annmariakalippilaanu‬! Im sure you all know by now that I'm also a part of the team ! So do watch the film with your families [sic]," Dulquer posted on his Facebook page.
The one-minute 23-second trailer of "Ann Maria Kalippilaanu" had opened to a positive response from the audience. The film has been released in 70 screens in Kerala, locking horns with Mohanlal's "Vismayam" and Tovino Thomas' "Guppy."
Here is the live audience reviews on "Ann Maria Kalippilaanu":
Vishnu Udayan
Ann Maria Kalipillaanu is a splendid comeback film of Sunny Wayne. Well supported by Aju chettan, Saiju, John, Shine Tom and Leona Lishoy, this film makes sure you leave the theater with a smile. The show stealer is none other than Sara Arjun. CPC's own Midhun Manuel Thomas' direction, Lijo Paul's crisp cuts, Vishnu Sarma's refreshing frames (continues his golden run), Sooraj's soothing bgm,Stephy Xavior's costumes.. No ingredients in the recipe are over used. Well done team! This film will linger in my mind for quite sometime :) Ps : This weekend is owned by two little angels. Raina Rao in 'Vismayam' and Sara Arjun in 'Ann Maria' :)
Sourab TA
Ann Maria Kalippilaanu a beautiful feel good family entertainer from Midhun Manuel Thomas and team Sara Arjun, Sunny Wayne, Aju Varghese, Saiju Kurup, Leona, Siddique sir and all others in the cast did a great job Sara Arjun as Ann Mariya was so graceful. Sunny Wayne as Poombata Gireesh was really good and he was fun along with Aju Varghese. Our angel DQ in a special appearance was just awesome. Altogether a sweet simple tale of Ann Mariya with some fun & some emotion. Congrats Midhun chetta, Sunnychayan, Sara & team ‪#‎AMK‬ :)
So the family entertainer of the season is here. Do watch it with your family & friends & spread the word :)
Tom Raphael
watched Ann Maria Kalippilaanu... simply beautiful... its a well written, well directed movie wit an amazing cast... happy to say that our John Kaippallilrocked as the villain... go for it :)
Asrith Santhosh
Nice movie
Alluz
#Annmariyakalippilanu Review ●Direction ●@SunnyWayn ●Story ●Baby Sara ●Music ●Suspence Overall Good Movie Rating : 3.25/5
BMS Users
a wonderful movie based on current issues faced by nuclear families. the type of story telling is not boring, and there is so many comedy situation's around the movie.
watched Ann mariya kalippilaan There is 2 things that influence me to watch this on the very first day 1.aadu fame director midhun manual Thomas 2.The buzz created on the social media's.
-
-