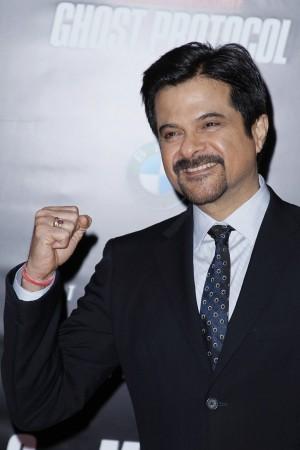 The promotional videos of the upcoming movie "Tezz" clearly indicates that the movie is about speed, fun, adventure, excitement, cars and gorgeous ladies. Now what can one think of ways to promote the movie? F1? When the International Budhh circuit is there in India, what is the need to go elsewhere?
Ajay Devgan and Anil Kapoor took to the race circuit of the International Budhh Circuit in Noida to do a flick for their promo videos. The duo took a test drive in Mercedes and then in Lamborghini.
According to the Times of India, the two actors were initially briefed by Farhan Vohra, race director and GM - Operations at the track. The duo was joined by Manish Yadav, host and organizer. "Anil bhai is a really close friend, so I organized this to help them promote their film," said Manish.
The director of the movie, Priyadarshan also watched the actors having fun at the race course.
"I've driven earlier on the F1 track in Abu Dhabi, so there's no thrill left for me here. I've always been fascinated by fast, expensive cars, like anyone with a middle class upbringing who had none would be. Now I have many cars, but no favourites as such," Times of India quoted Priyadarshan as saying.
"We must have touched 260-270kmph. It was a fantastic experience, like an addiction. We were to do only one lap, but Farhan told us - 'Aap jaiye toh sahi, phir dekhte hain kitne karte hain'. He said we wouldn't be able to stop, and he was right - we ended up doing three laps and still wouldn't have stopped if it weren't for you guys (the press)!" said Anil Kapoor at a press conference.
Director Priyadarshan is attempting a completely new subject in this movie after doing comedy films. The film casts Anil Kapoor, Ajay Devgan, Sameera Reddy, Boman Irani, Kangana Ranaut, Zayed Khan and southern superstar Mohan Lal.
According to India Today, "Tezz" is about two men, one is out to get back what was taken out from him in an unjust way, and the other is willing to do whatever it takes to stop him in order to serve justice.
To watch the trailer of the movie, click here.