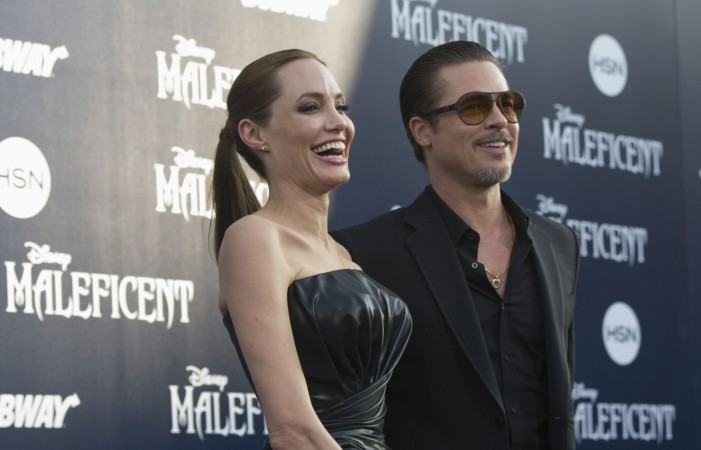 It seems all is not well between Hollywood's most popular couple Angelina Jolie and Brad Pitt with the former's troubled past threatening to derail their relationship. It is reported that Brad Pitt, 50, is not happy on learning that his fiancee had links with a rape accused.
According to an exclusive report by the National ENQUIRER and obtained by Radar Online, Brad Pitt is upset on learning that his longtime fiancée cozied up with model Dean Kelly after she won the Oscar award in 2000 for her role in "Girl, Interrupted". Kelly, who was charged with raping two minor girls in 2005, had pleaded guilty to sexual crimes. He has been in prison after violating probation last year.
Angelina Jolie, 39, was spotted up close with Kelly at post-Academy Awards party 14 years ago, and the exclusive photos obtained by The Enquirer have reportedly upset Brad Pitt.
"Brad is humiliated," a source told The Enquirer, reported Radar Online. "After he saw the photos of his fiancée with Dean, he stormed out of the house just to calm down. He's embarrassed, upset and sounds ready to bail."
The report of Jolie's link with Kelly surfaced a few weeks after drug dealer Franklin Meyer told The National ENQUIRER (reported by Radar Online) that he sold cocaine and heroin to the actress. He also exposed a 16-minute video of the mother-of-six in drug den in 1998.
Brad Pitt and Angelina Jolie, popularly known as Brangelina, have been a couple since 2005. They first met in 2004 on the sets of the film "Mr. & Mrs. Smith" and speculations sparked off they were having affair when Pitt was still married to Jennifer Aniston.
They started appearing together in public after Aniston filed for divorce in 2005. Jolie announced in 2006 that she was pregnant with Pitt's child, thus declaring to the world that they were in relationship. Reports of their break up hit the headlines several times but they kept going and got engaged in 2012 after seven years of relationship.
Brad Pitt was earlier married to actress Jennifer Aniston, and Angelina Jolie was married to Jonny Lee Miller and Billy Bob Thornton.