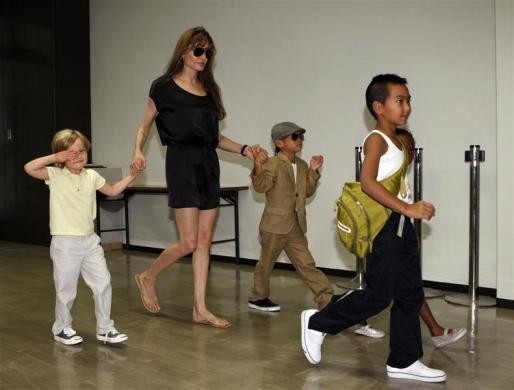 As a preventive measure against ovarian cancer, Angelina Jolie has undergone a surgery to take out her ovaries and fallopian tube last week, after results from a blood test raised fears that she may be in the early stages of cancer.
The "laparoscopic bilateral salpingo-oophorectomy" revealed a small benign tumour on one of the ovaries but found no signs of cancer in the other tissues. She chose to keep her uterus because there is no history of uterine cancer in her family.
In the article, titled "Angelina Jolie Pitt: Diary of a Surgery" that she wrote for The New York Times, she said a blood test done two weeks ago revealed that she carries the BRCA1 gene mutation, that gave her an 87% chance of developing breast cancer and a 50% risk of ovarian cancer. Jolie said that the decision was not a hard one to make as she did not want to take any chance in future. "My mother's ovarian cancer was diagnosed when she was 49. I'm 39," she said.
Special Moments of Angelina Jolie in Pictures
The Academy-Award winner had had a double mastectomy two years ago but she had always feared that she might have to operate on her ovaries as her mother, grandmother and aunt had all succumbed to ovarian cancer. "There was still a chance of early stage cancer, but that was minor compared with a full-blown tumour. To my relief, I still had the option of removing my ovaries and fallopian tubes and I chose to do it," said Jolie.
Having the surgery has not removed all risk. "The fact is I remain prone to cancer", she wrote. But she now looks forward to strengthen her immune system with natural remedies. Jolie, who is also a film director and UN envoy, will now take hormone replacements as removing her ovaries has forced her into menopause. But she feels thankful that her children would never have to say that "my mom died of ovarian cancer."