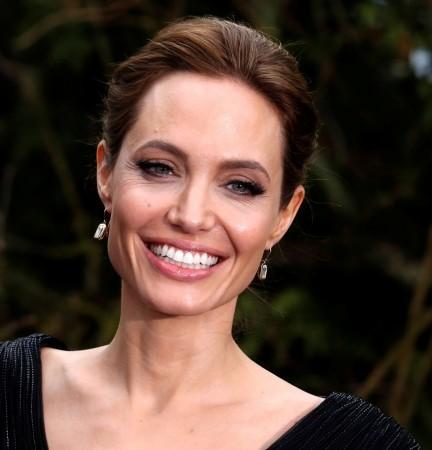 Angelina Jolie recently opened up about daughter Shiloh's boyish fashion choices. When Today's show host Al Roker told Jolie that he loved Shiloh's boyish dressing style at the "Unbroken" premiere, Jolie took the comment in her stride. Supporting her daughter's manly wardrobe the Oscar winning actress said that Shiloh honoured her film "Unbroken's" central figure Louis Zamperini by wearing his shoes.
"She had Louis' shoe on, that he won in 1940," the 39-year-old actress said, according to Daily Mail. Brad Pitt also said in his previous interview that Shiloh liked to be addressed by a boy's name John.
"So we've got to call her John. 'Shi, do you want...' 'John. I'm John.' And then I'll say, 'John, would you like some orange juice?' And she goes, 'No!' So, you know, it's just that kind of stuff that's cute to parents and it's probably really obnoxious to other people," Pitt said, reports Eonline.
Though the high profile couple has never said anything about their daughter's gender identity, it was model turned actress Amber Rose who assumed that Shiloh was a "transkid." She wrote in her Instagram post (now deleted), "How gorgeous is John Jolie Pitt?! Born into the perfect family for him. #TransKids #LoveurKidsNoMatterWhat #Support.
Meanwhile, Jolie also spoke about chickenpox, which kept her away from "Unbroken's" promotional events. "It was so absurd. During the day before, I was trying to do interviews, and I was like, What's happening to me? Strange," she said about her illness. The premiere of Jolie's film "Unbroken" was attended by her kids and husband Pitt.
Jolie second directorial venture "Unbroken" has met with rave reviews. The film is being considered a major Oscar contender and is speculated to prove successful at the box office. The film tells the story of WWII Olympian Zamperini, who survives a plane crash and spends 47 days on a raft. The Japanese navy later takes him as the prisoner of war. The movie is inspired from the book by Laura Hillenbrand "Unbroken: A World War II Story of Survival, Resilience, and Redemption." English actor Jack O'Connell portrays Zamperini on screen.